Happy Memorial Day weekend! How is did that happen so fast? How's your spring going? I feel like I have something every weekend until after the fourth of July and in August I'm going to Italy, Yay! Is your schedule crazy hectic too?
In the time of transition months and coo-coo weather, it  can be hard to figure out what to wear.
And it's not always feasible to go out and buy something new (although there will be great sales this weekend – see below). So in this post I want to show you three easy ways to take items you may already have in your closet and put together a cute, sexy outfit to go out in, for most any season!
First, pull out a stylish jacket you already have, I suggest a moto jacket or something similar (fitted/shorter). If you don't have a moto jacket, they are total closet staple and I suggest investing in one (you can get them reasonably, I linked a few in this post). They can be worn almost year round and are especially great for the spring and fall. (Or year round in San Diego as the weather is usually chilly at night and esp now during May gray and June gloom ughgh…);0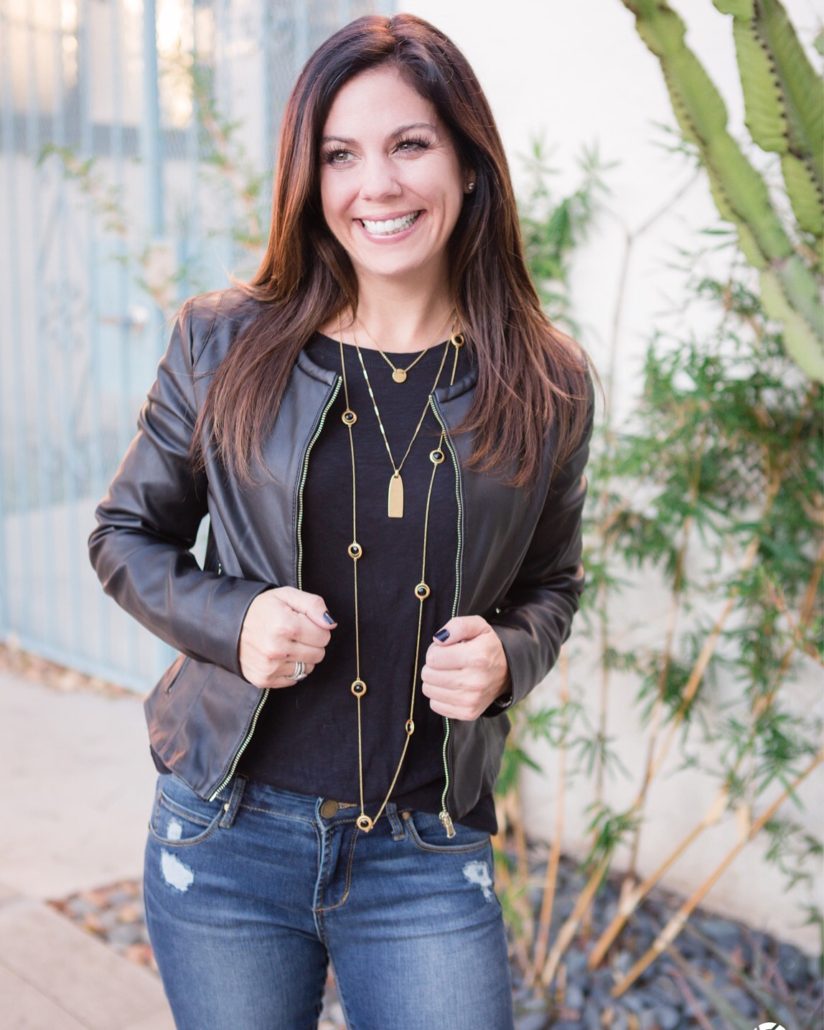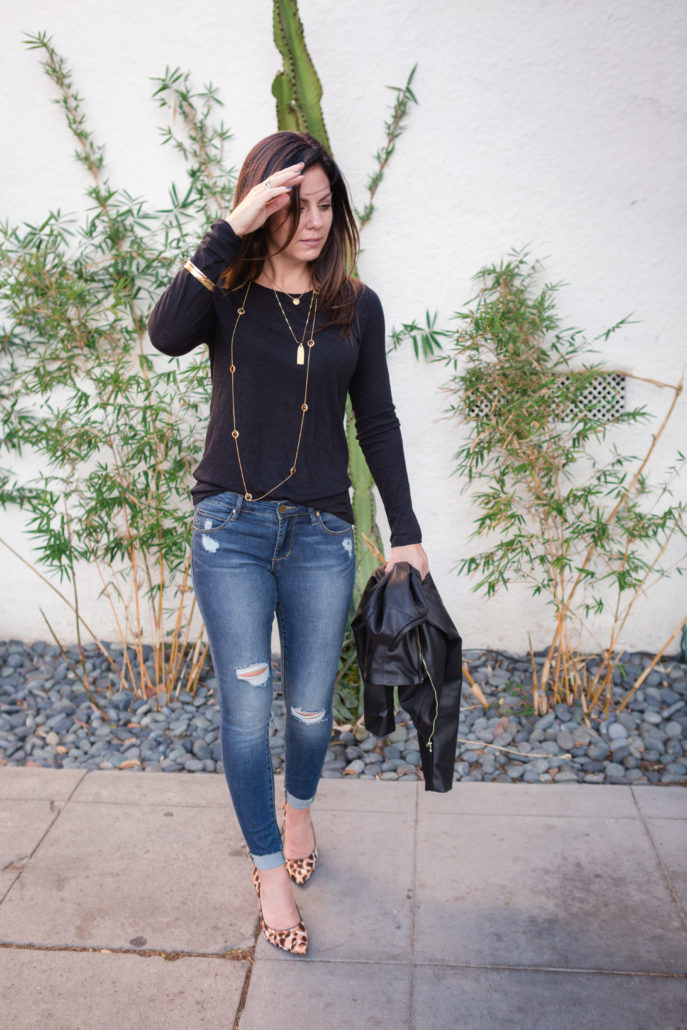 Then, to keep this look simple, I styled it with a cotton top to wear under the jacket. I will say, I do love staple, long sleeve tops for layering. I usually get them from Nordstrom, Target, Marshalls, Banana, Gap, etc. and I have several. I usually load up on them (usually on Black Friday or during the Nordstrom #NSale – or the Half-Yearly sale happeining NOW! Click here)!
With the warmer months approaching I also suggest trading a long sleeve with a silk blend cami (my favorites are from express) or a simple tank from Target which I'm obsessed with (and for $8 a pop, I have one in every color and two of each in black and white, and whatever color is in season (hello pink))!
See my post on layers, here for winter to spring to summer layer styling.
Second: Pull out those skinny jeans. Skinny jeans have been trending for a while and if you don't have a pair, I'm crazy about these Nordstrom Article of Society Jeans. They are SO reasonably priced (while looking designer) and they are stretchy! Also you need to size down (that always feels good, when does that happen)?? And they are stretchy which = maximum comfort! If you already have a pair of skinny jeans in the closet, pull them out!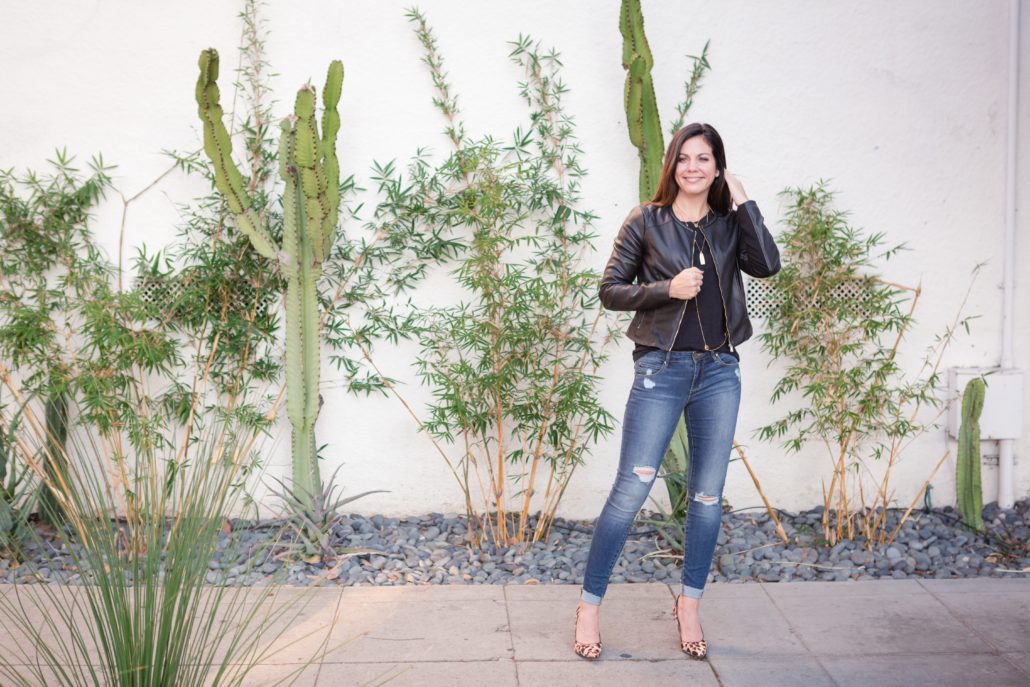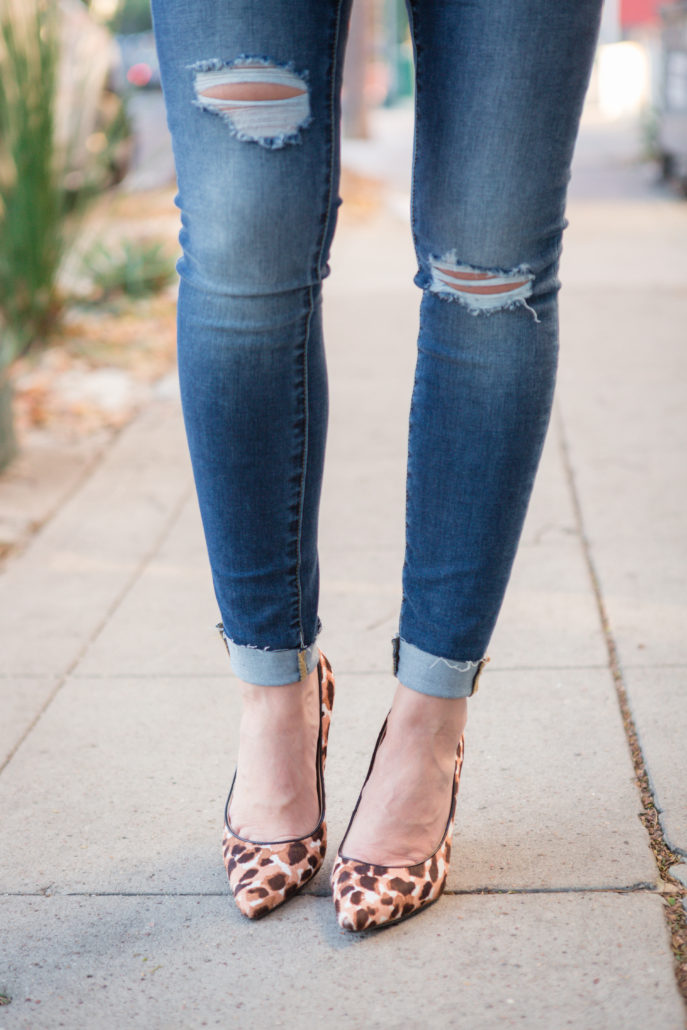 Third: Grab a colorful or bold print heel.
I styled this look with leopard heels. How sexy are these heels? I feel like you can add these to most monochromatic outfits to spice them up. If you watch my instagram stories, you'll see me doing that often when I want to wear something all black and make it fun = insert a great heel. People can't help but compliment you. Try it and let me know!
These heels are also a closet staple that won't go out of style. I mean, my grandma Mona wore leopard heels and a jumpsuit for her 75th birthday and that was 20 years ago now and she looked goooood!
I linked the exact ones below and I have been wearing them non-stop! I'm getting so much use out of them. If it's too chilly for that much skin, go for socks and a bootie with this look, if it's too warm for a heel, pair this with a strappy heel or sandal (see below).
Viola! There you have a simple yet sexy option for date night or going out with ladies. Hopefully you have some of these items in your closet you can use to mix and match to come up with a stylish simple, but elegant look for the season. And if not, I have linked some affordable options below as these items won't go out of style any time soon!
This weekend I'll be getting a Kybella treatment at La Jolla Cosmetic Laser Clinic, have you heard of it? Have you had one? Let me know if you have interest in a blog post on my experience with the treatment and use my code to get a discount when you go for treatments (*Use my code LAJKellie10) for online or in store purchases for services and products!  Check it out and comment below if you have any questions.
*Some restrictions apply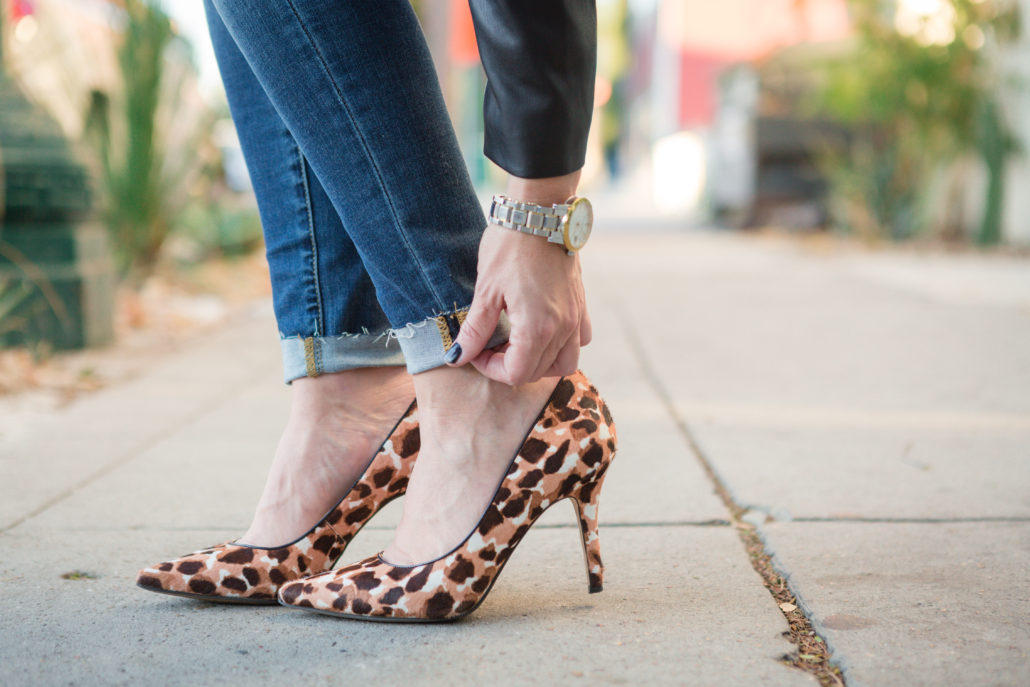 Here's your Bicoastal Beauty Tip of the week: LAYER your necklaces! I'm currently OBSESSED with the Gorjana necklaces and bracelets. I recently attended their opening party at UTC and am in love with all of their items. Check them out here, you'll definitely be seeing more of them on me and everywhere!
ALSO look out for the sales this weekend, Memorial Day weekend = alll the sales!
Nordstrom Half-Yearly Sale, now until June 3 – click here!!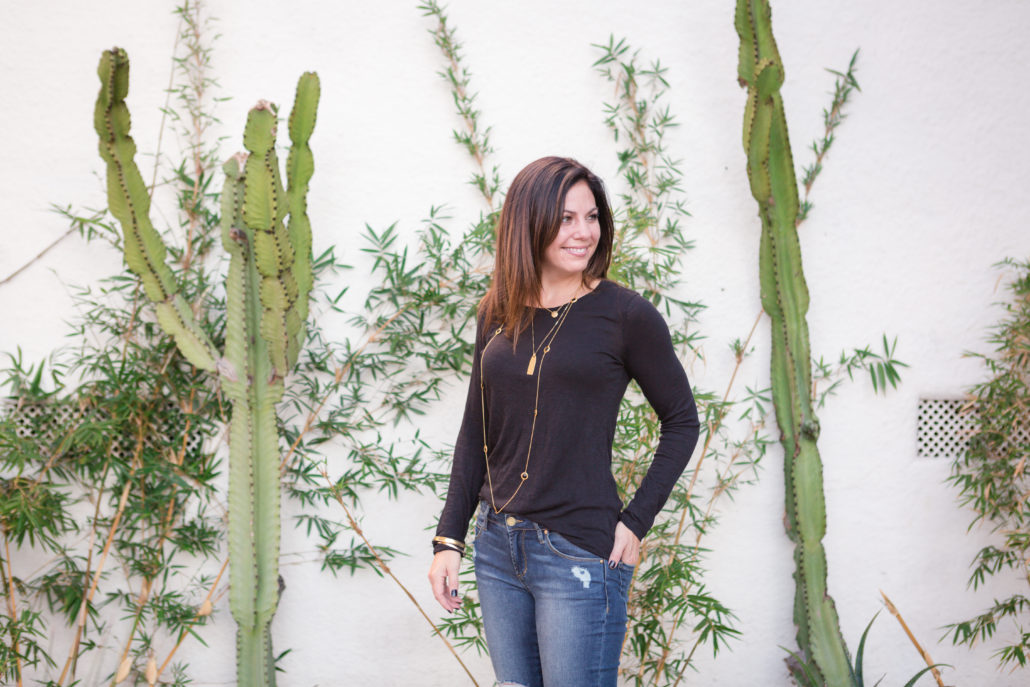 Instagram
Instagram did not return a 200. Follow Me!