Click here to – Follow my blog with Bloglovin
I hope you like the last post on Bangkok and travel tips; if you missed it, click here. I'm continuing my series of posts about my adventures in Thailand with Chiang Mai's hidden gem! And, surprise! I have more than one gem for you. 
Leading up to my trip, I had heard amazing things about Chiang Mai and was excited to check it out. Chiang Mai is a city 700KM miles north (east/west) of Bangkok, you can get there via train (about 9 hours and I hear this is a pretty good option if you want to go at night in the sleep car). We opted to fly to save time (I have a few travel tips on flying in Thailand you can find below).
Once in Chiang Mai, there is so much to do! There are so many activities: hikes, visiting temples, shopping, restaurants, day and night markets, cooking classes, elephant parks (more on this in the next post) and more.
In my next posts, I will discuss some of the activities to do in Chiang Mai and for this one, I'm going to focus on two hidden gems in Chiang Mai.  The first is where we stayed – Fern Paradise Hotel. 
You guys, this was a treehouse hotel, we stayed in a  treehouse. It felt like being in the jungle, how cool is that?? See below…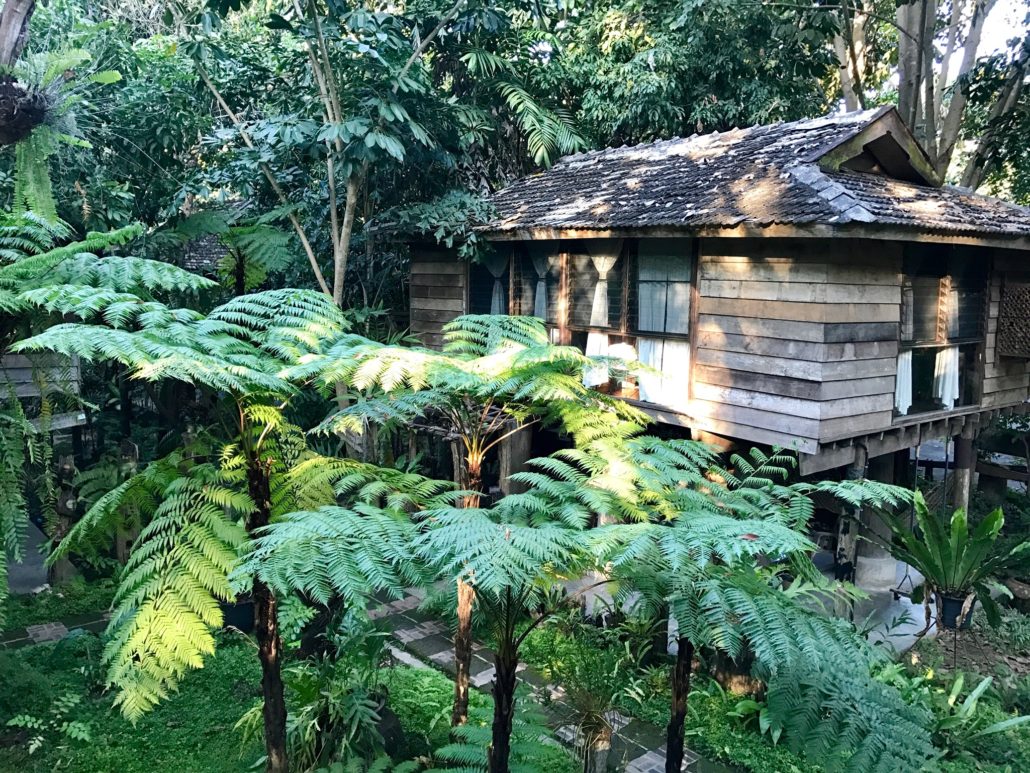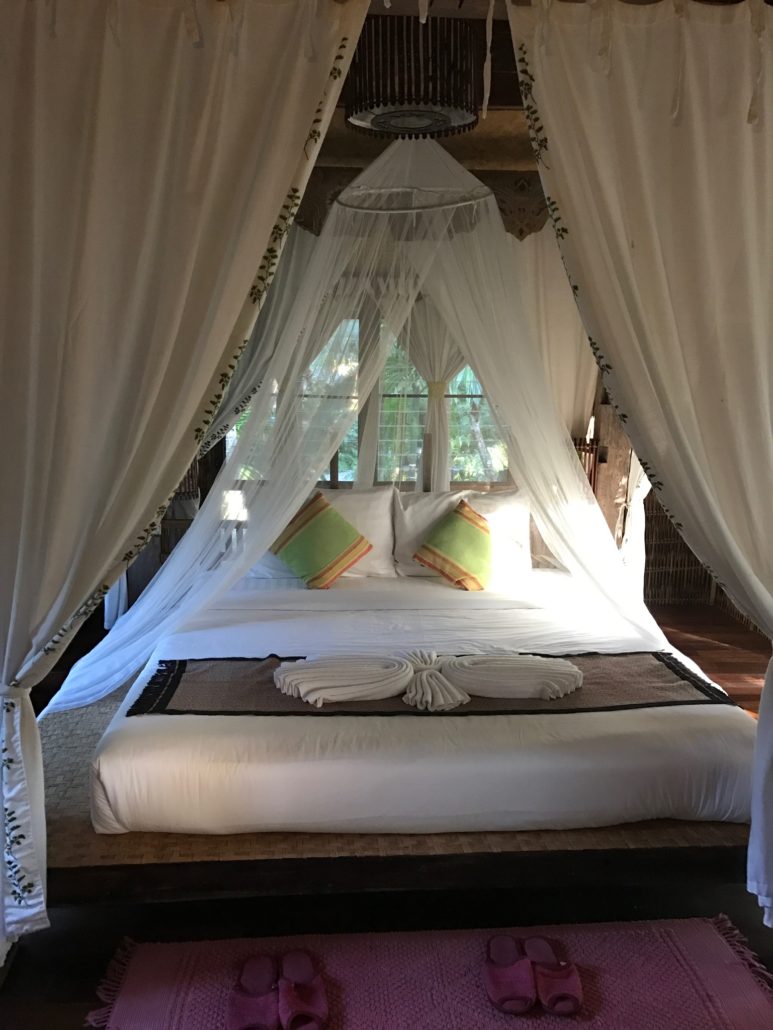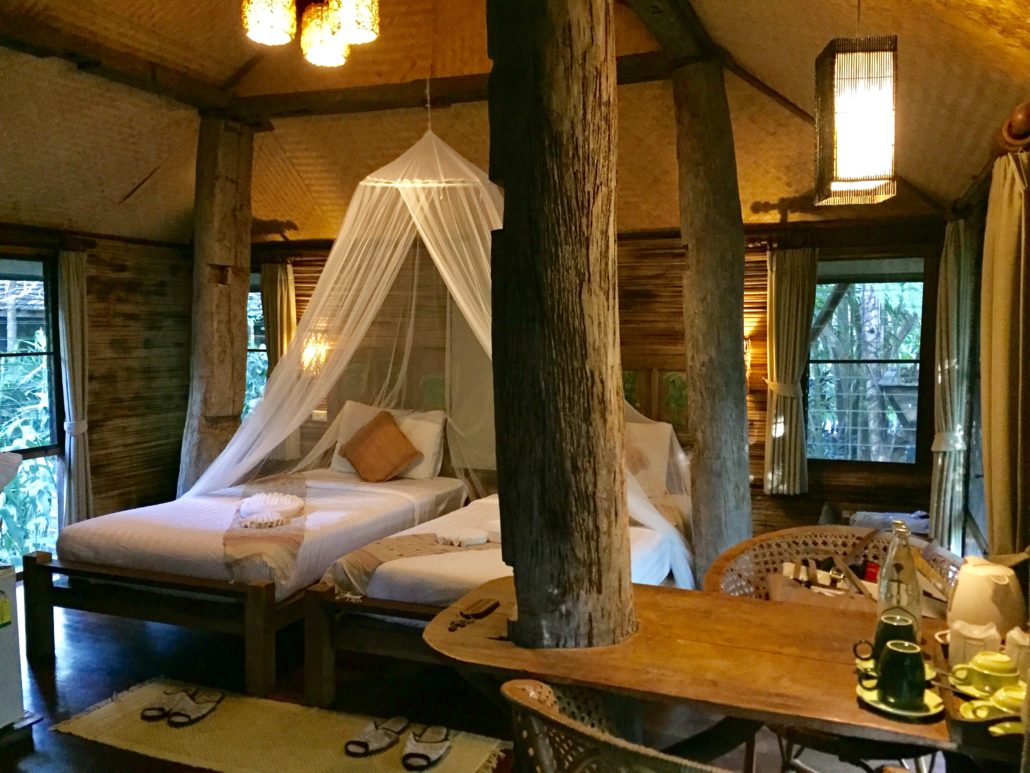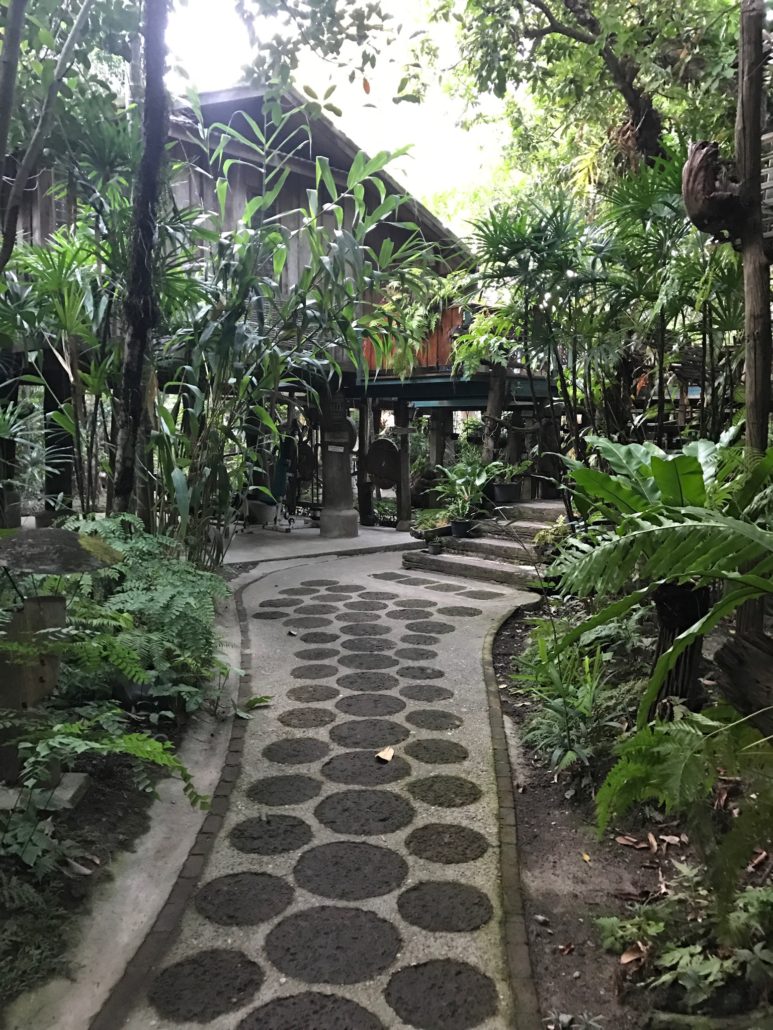 A canopy of trees and greenery surrounded us and it almost felt like going back in time because the hotel grounds were so secluded from the city. There are nine tree villas surrounded by more than 300 types of fern (hence the name, Fern Paradise).
Everything was outdoors – the lobby,  a small gym, the restaurant, and the pool. The "restaurant" where we had breakfast (included in the room rate) every morning was a deck overlooking a creek or would move to be set up somewhere outside underneath the palm trees, surrounded by nature. It was so cool to hear the birds singing and frogs croaking all around us, and to see so many stars at night! Breakfast was my favorite time of the day. Sitting outside and relaxing, eating a homemade Thai breakfast and having coffee surrounded by the sounds of nature, in complete tranquility (PS they serve hot dogs for breakfast, but it's called "sausage" there)!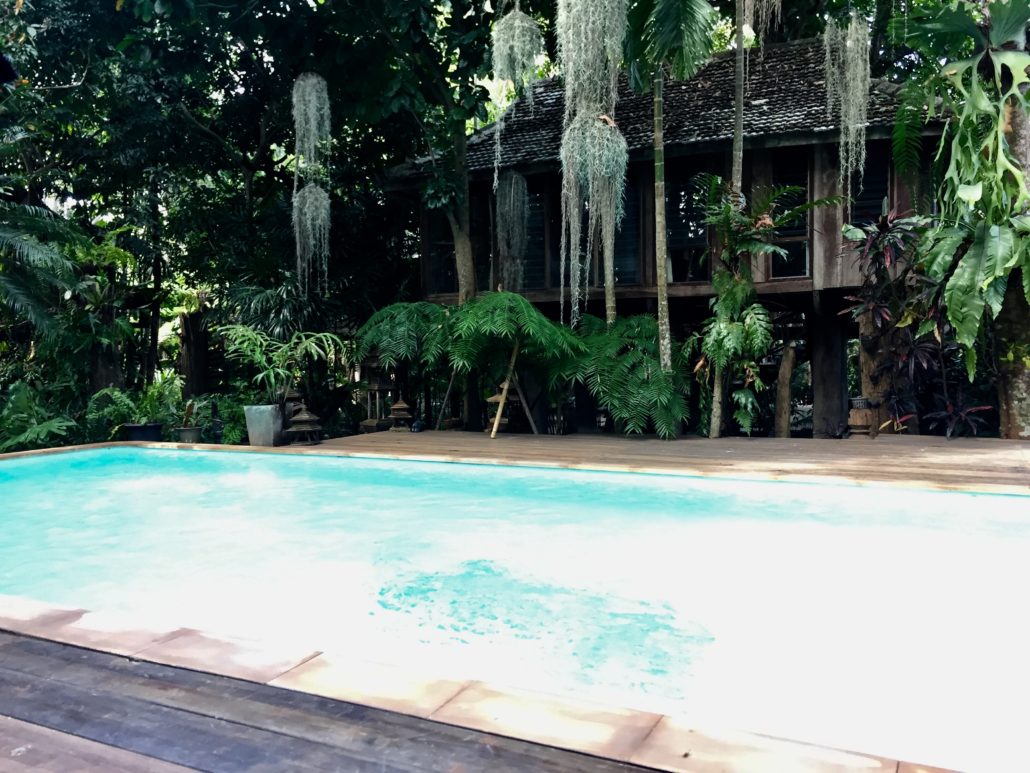 This is the outdoor lobby!!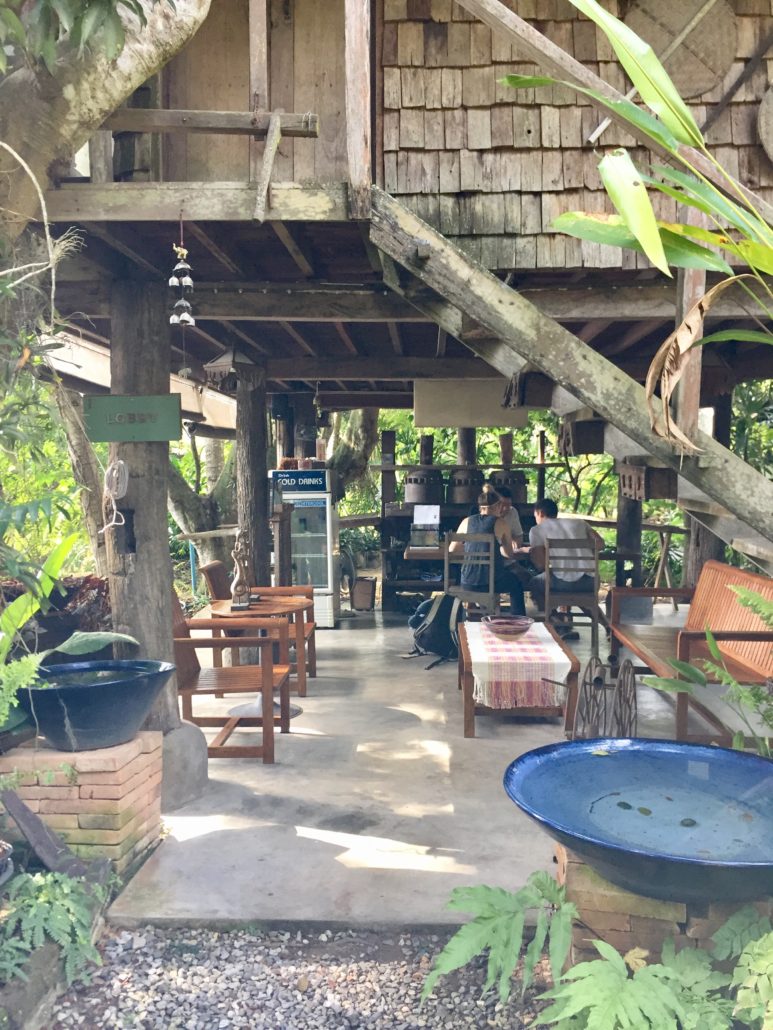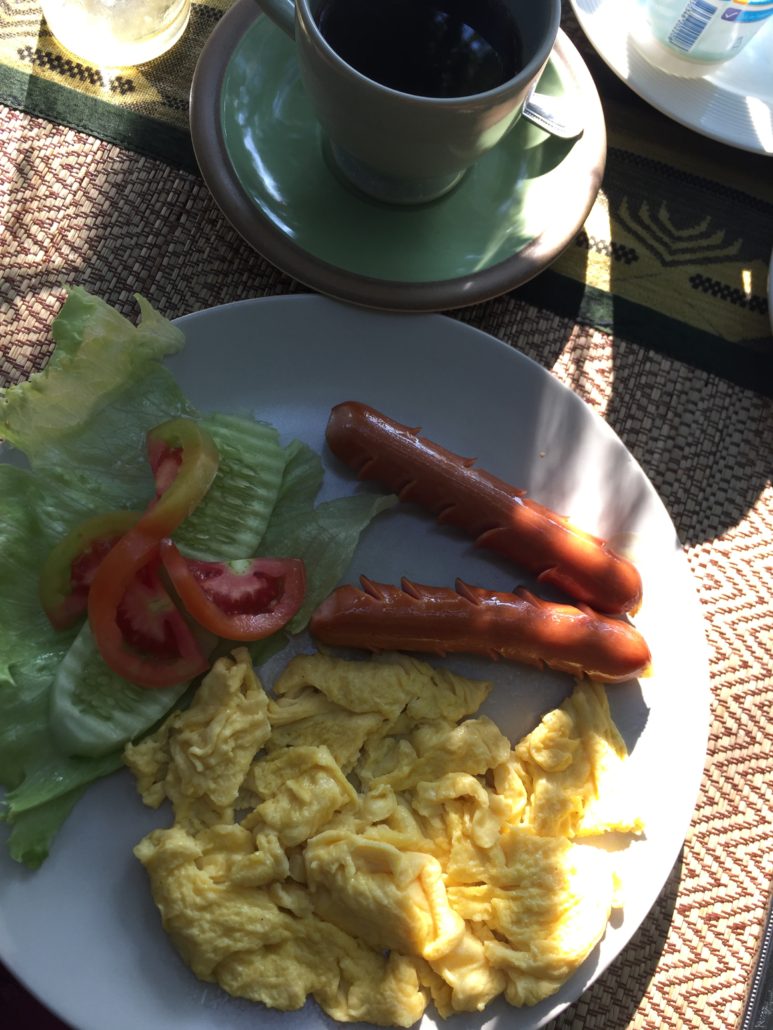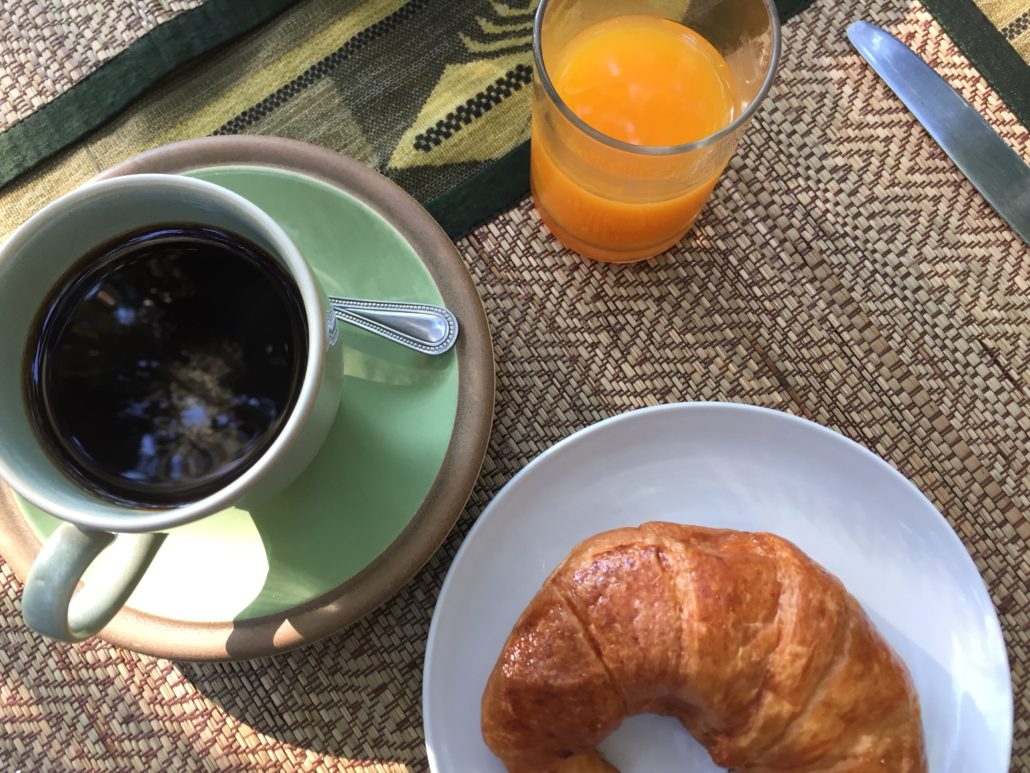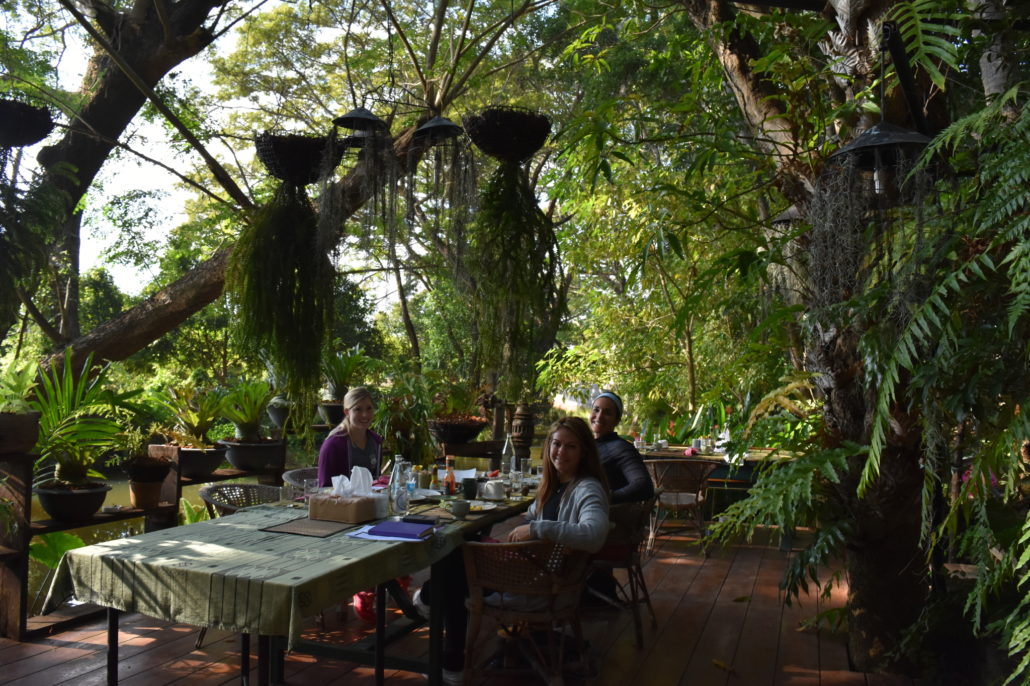 Rooms
The rooms were adorable and super rustic. Everything was wood, built into the tree! It looked like a combination of a log cabin and a treehouse, and the beds were comfy and supplied a mosquito net, which I had seen before but never slept under (and yes there were mosquitos and bugs outside but I didn't see many inside). The rooms had a few modern amenities like wifi, a coffee maker, tv, hairdryer, etc.  (note, the rooms are dark so no getting ready for prom here).
The rooms were on stilts so you were in the treetops and below the rooms were private hammocks, wooden swings and tables for hanging out.
Note – hotel had GREAT free wifi on the grounds which was awesome to have!
This hotel (really I would describe it more like a B&B) was beyond the definition of peace. I only wish we had more downtime while we were here so we could have relaxed and enjoyed it more! If you are looking for a party, this is not your place. This is a secluded place to get away and slow down and experience something very cool and different. The only drawback t is that it takes about 25-30 minutes to get into Chiang Mai so plan accordingly. It's easy to take a taxi or tuk-tuk (see transportation in this post re: tuk-tuk) so it was worth the experience, just know that it is in a more remote area and takes some time to get around when you plan your days. (Transportation from the airport to the hotel was included) – email the hotel your itinerary in advance and they will help arrange it (info@fernparadise.com).
Service & Hospitality
Talk about Thai hospitality! I have to say one of the best parts of the treehouse experience, (other than the actual treehouse) was the owner, Om, and his amazing hospitality. He was so warm, friendly, welcoming and hospitable. I really felt very well cared for! Om went above and beyond to make our trip memorable. He served us breakfast each morning, got up at the A$$ crack to make sure our taxi was waiting for us when we went to the elephant park (more on that in a later post), and even drove us to dinner and picked us up afterward. Amazing!!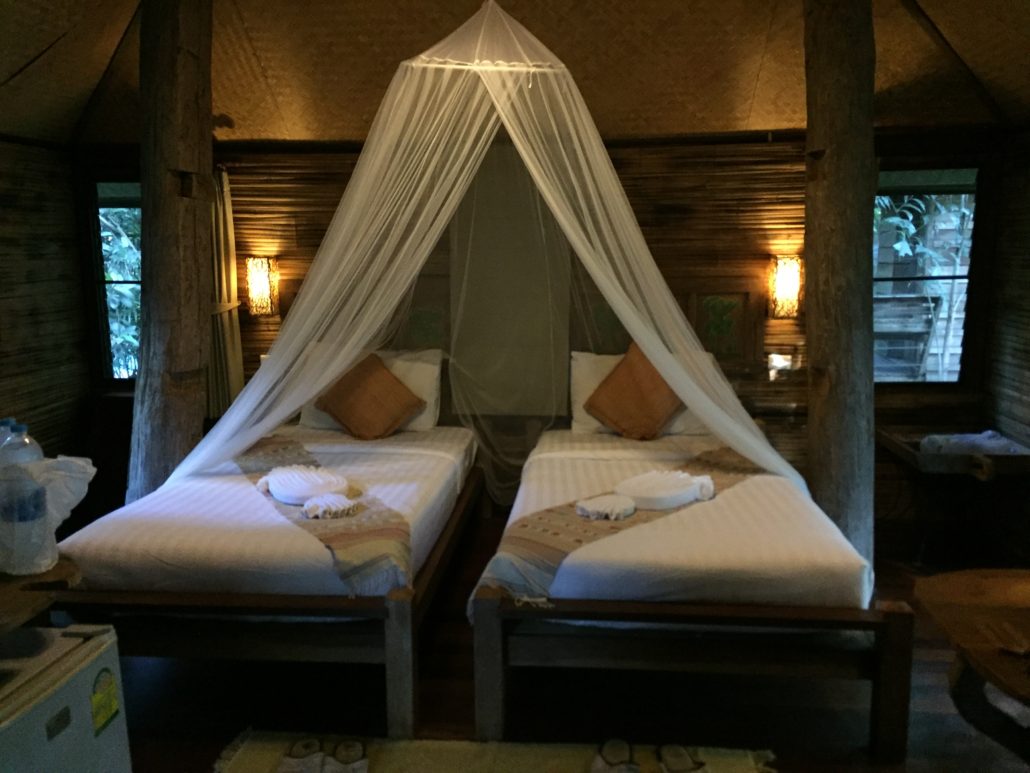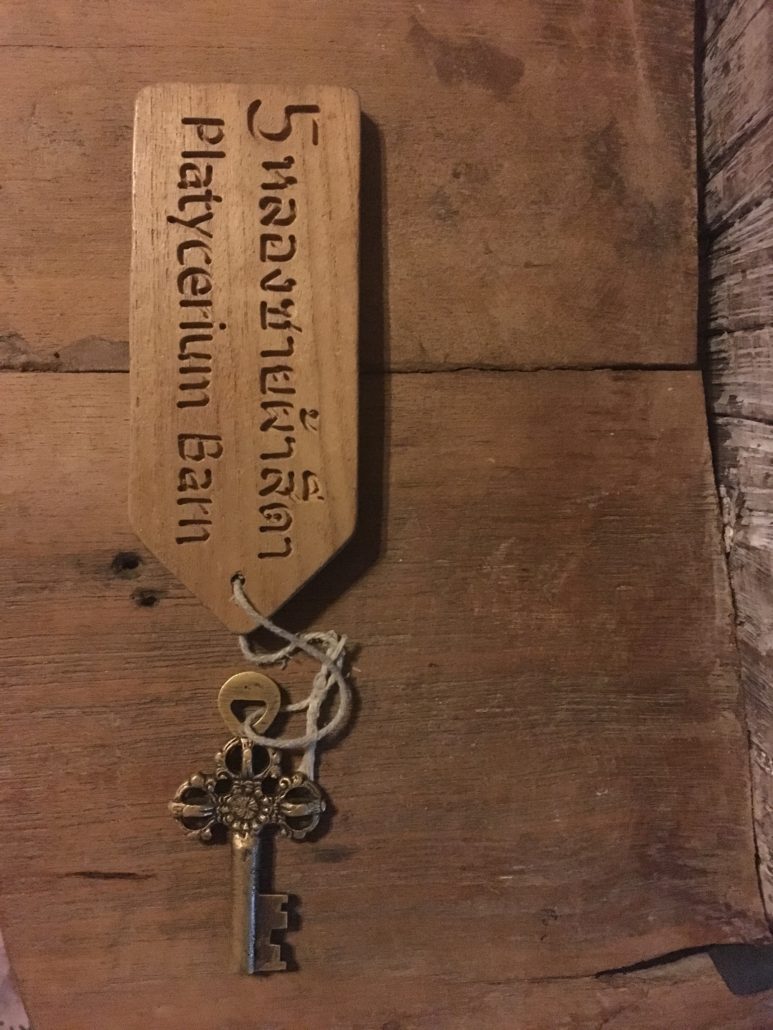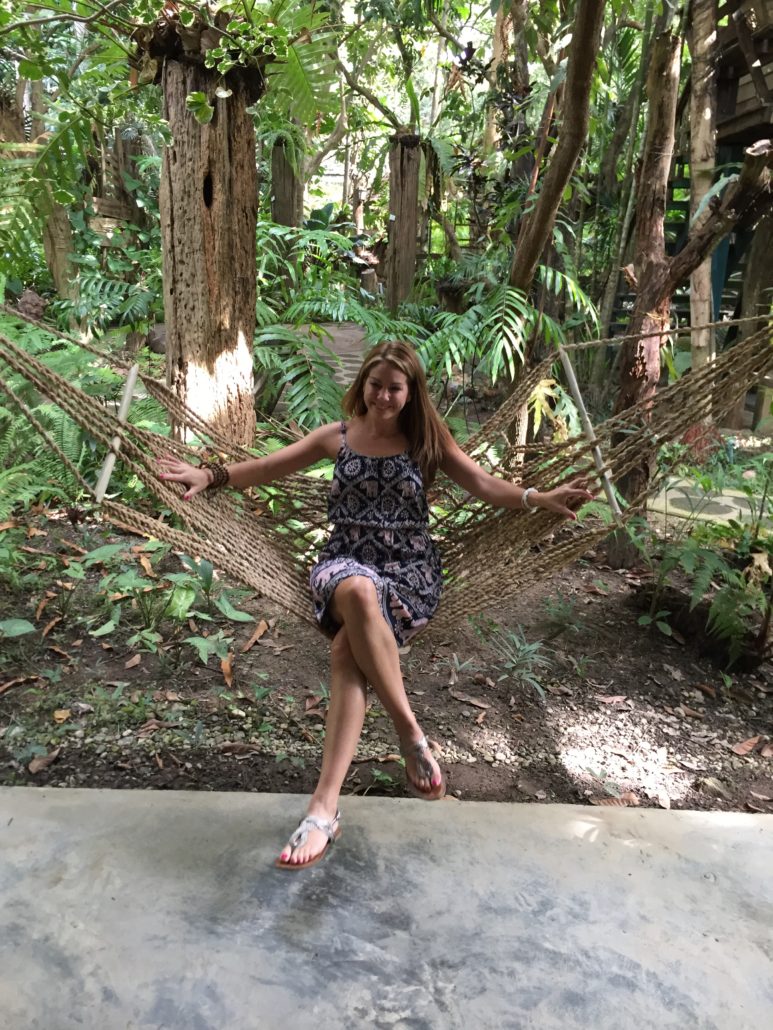 The Second Gem!
The second gem I found in Chiang Mai was the definition of farm to table organic freshness! This restaurant, Organic Farm, you MUST try if you are in the area. The food was amazing, and they were growing most of the produce on the farm –  it couldn't have been fresher. They had choices for every palate and everything was delicious!   I highly recommend it, and it's less than 10 minutes from the hotel (the owner even dropped us off and picked us up for free)! Here is the link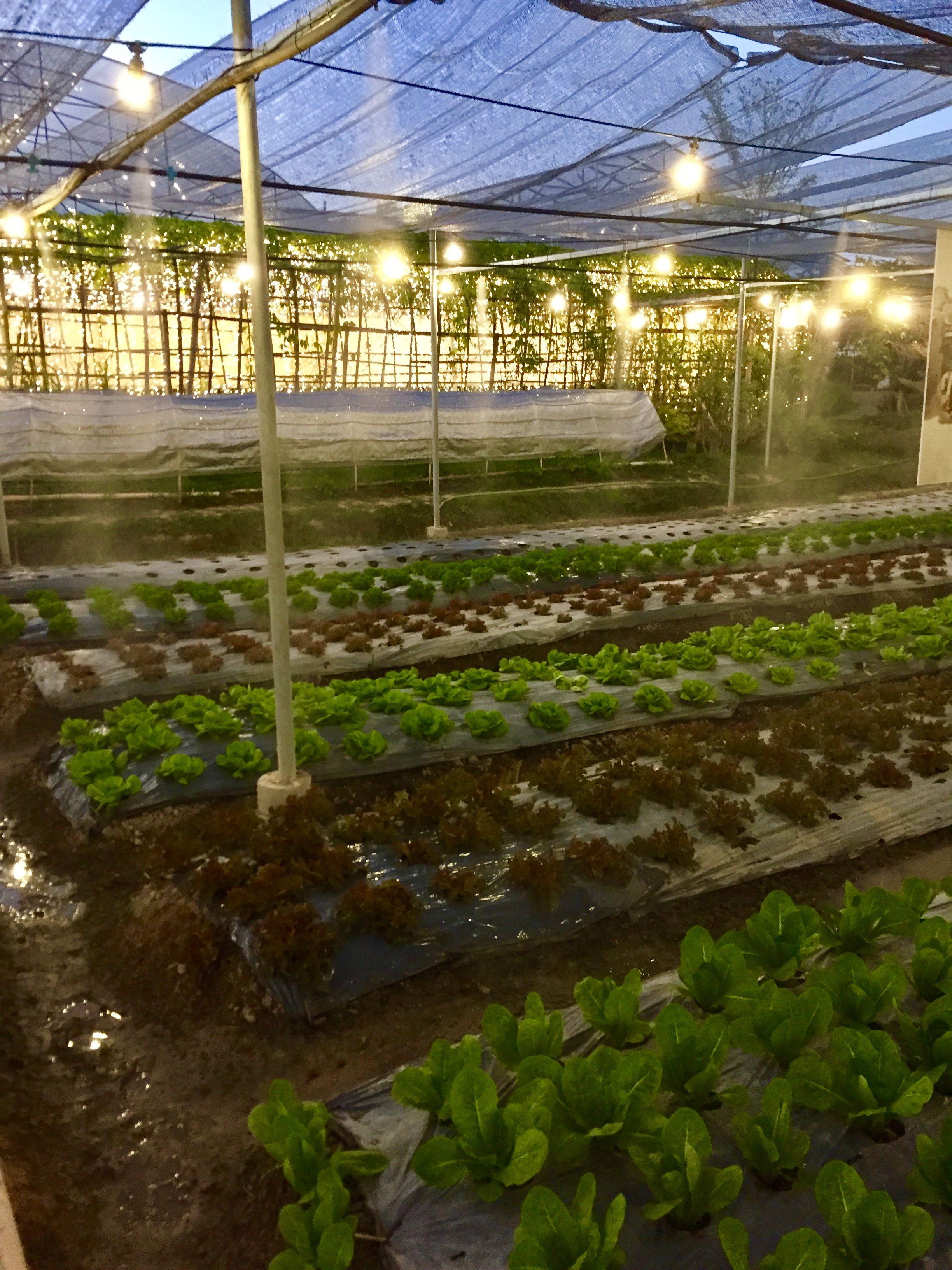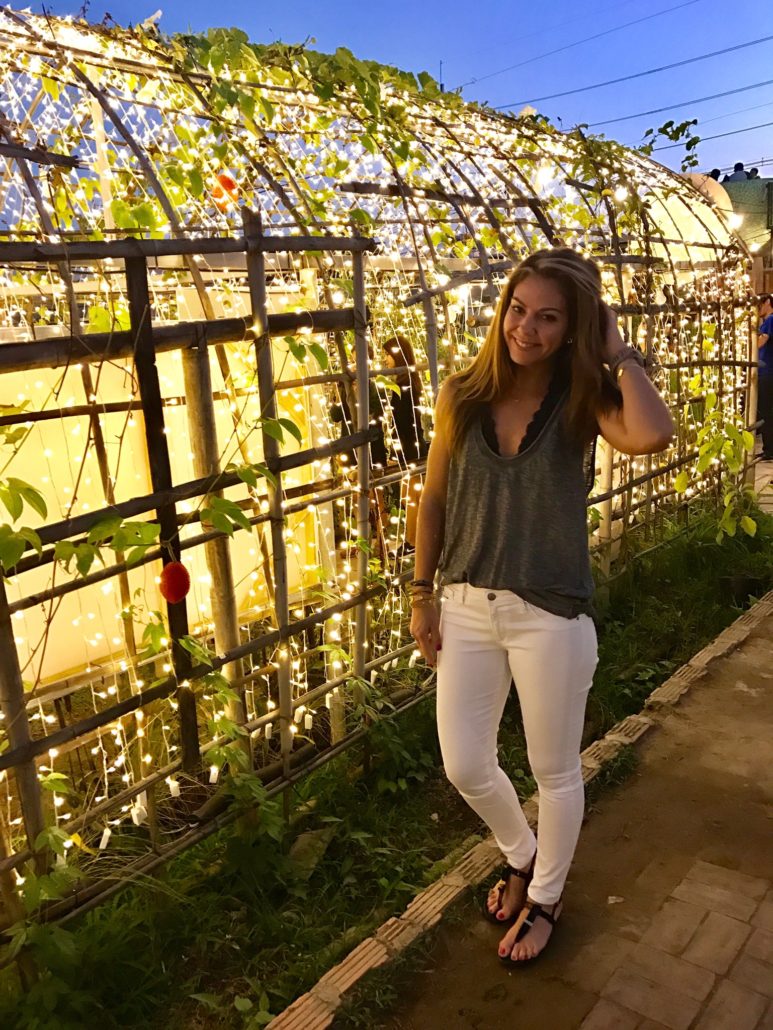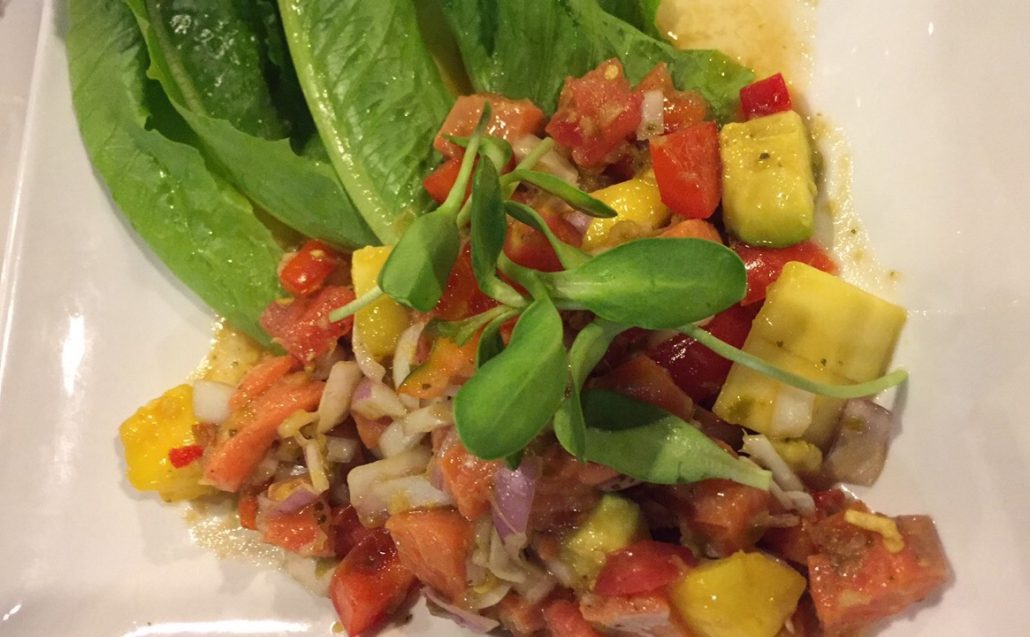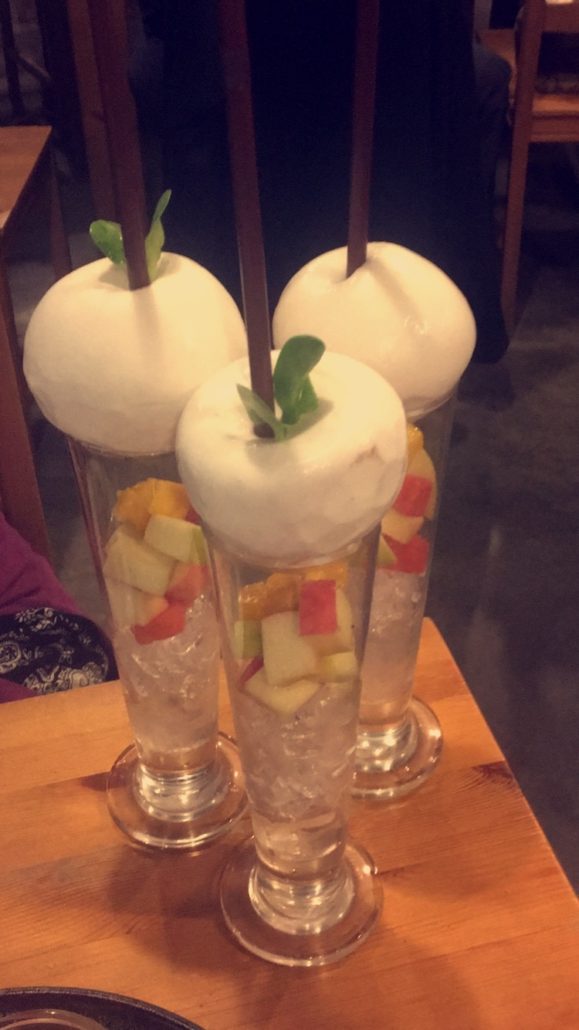 Travel Tips
A tip on traveling in Thailand: book your flights early if you are going during the holidays  as the prices rise the longer you wait. The flight from Bangkok to Chiang Mai was easy, about an hour, and we flew Thai Airways, which can I just tell you we LOVED Thai Airways! Wonderful service, such a nice staff, they provide hot snacks (a burrito type of warm delicious cheese thing), had perfume in the bathrooms, and the flight attendants had beautiful colorful tops and skirts and then changed through the flight to beautiful pant suits.
Bring bug spray! This one is Consumer reports approved and worked wonders for most of our group! Sawyer Picaridin Insect Repellent 
Here is your Bicoastal Beauty Tip of the week: try one of these Lululemon Vinyasa Scarves, they are AWESOME for travel and you can use them on your yoga mat or as a blanket. I love multipurpose items!
I hope this is helpful and you enjoyed it! Please leave a comment below, what would you like to see more of and what did you think of this post? Do you have any questions for me? Next week look out for:
Lantern Release NYE in Chiang Mai
Have a wonderful week, friends!!
xoxo, Kellie
Photography via my iphone 6 and Ben Methakul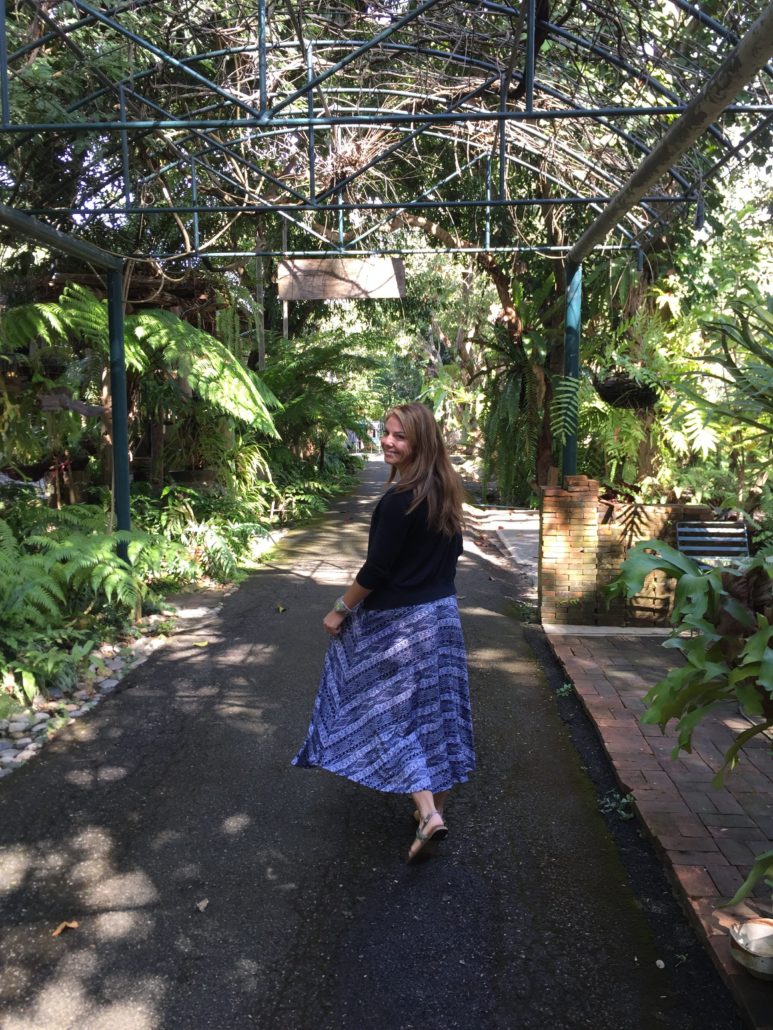 Instagram
Instagram did not return a 200. Follow Me!