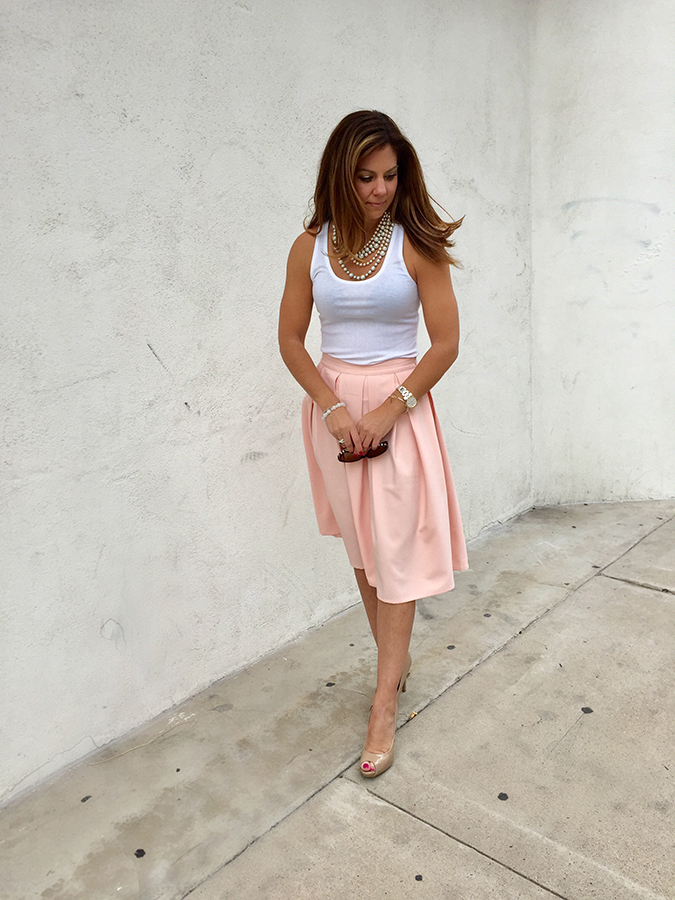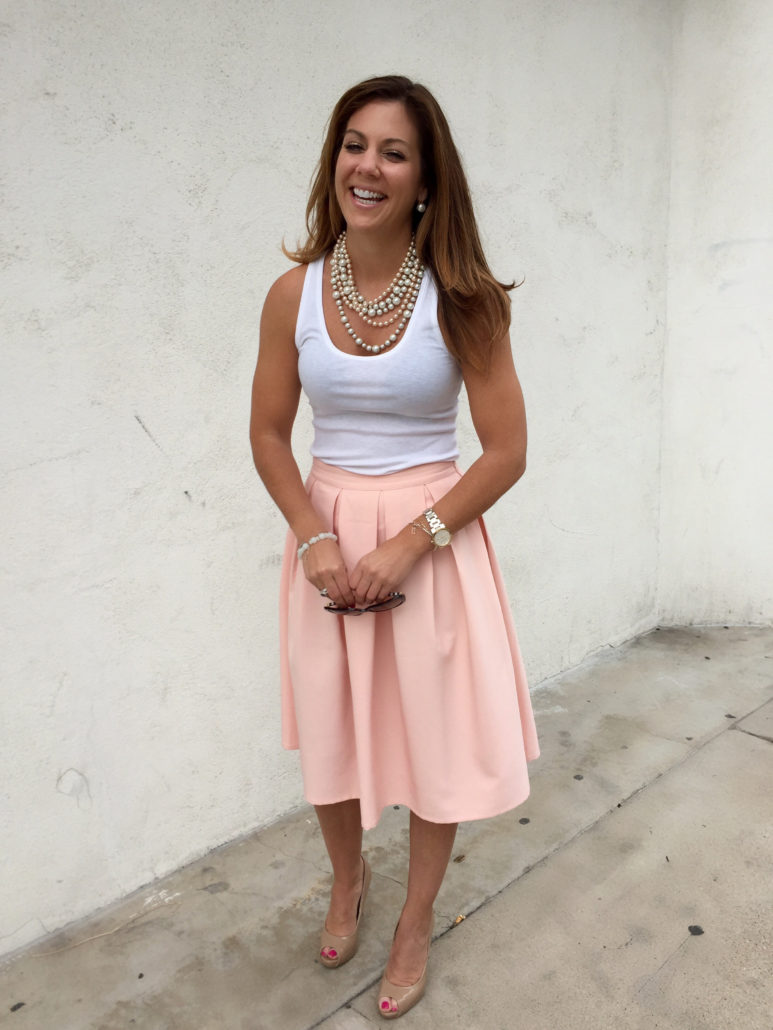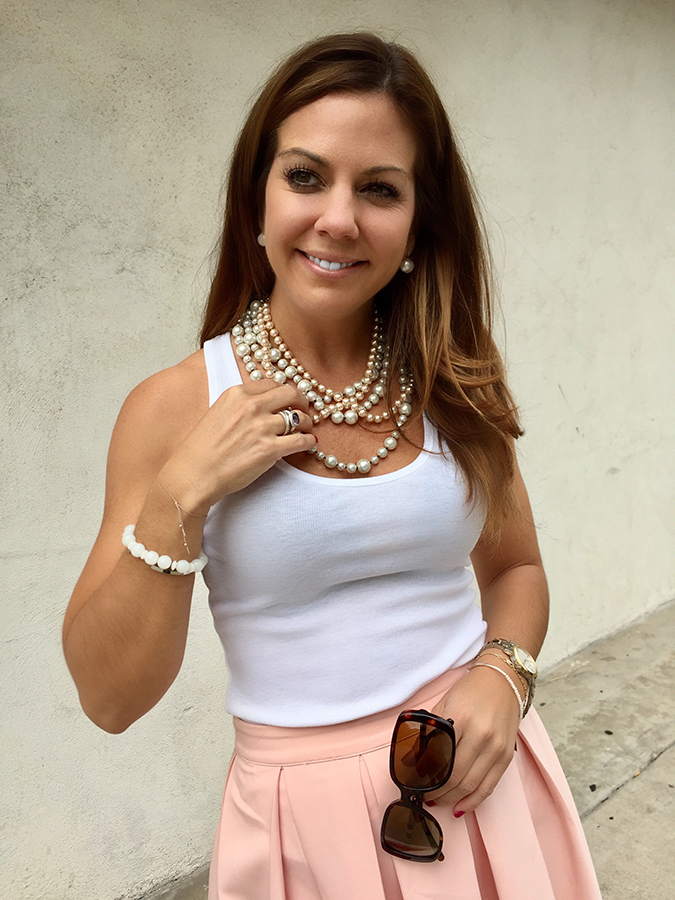 The weather in San Diego has been a bit wonky the past few months, cold days and  warm days, then rain, rain, rain!! Last week when we had  spring weather, I had an event at the Estancia in La Jolla for the San Diego Magazine Brunch event. I pulled out this pink pleated midi skirt I had picked up recently at Forever 21. This spring, nothing says "hello" to the new season like pink…and why not pink with pleats!?
I wanted to look effortlessly sexy in something simple yet fresh, but all without trying too hard.
I took this trendy pleated pink skirt and added a few closet staples to create a fun look that felt cute, clean and classy – perfect for a brunch event (among other things)!
For shoes, I chose patent peep toe (I found these a while back and they are a serious closet staple – a nude heel of any kind). I've linked some other options below.
Speaking of a closet staple, I suggest finding a classic denim coat you can keep for a while, mine is actually from old navy and I've had it for years! I have also linked a few similar below (both the heels and jacket were under $40 each)!
You don't have to spend a fortune to collect your closet staples, I suggest finding things you like that can be timeless.
I styled the skirt with a form-fitting simple white tank (tuck it in to keep the focus on the skirt). Then for fun, I added the double strand pearls and a denim coat to keep it casual but cute!
3 tips to make simple pieces (YOUR CLOSET STAPLES!) stand out:
Keep it simple.

I always have some plain tanks and tops that you can spruce up with jewelry. These will let your pieces shine and keep your look clean and fresh. Focus on the bling or glitter, and the entire outfit is sure to get a second look.

Add a statement piece.

For this outfit I added a long strand of pearls that I wrapped a few times to keep it interesting (if you do that keep it simple on your earrings and arm candy or maybe just leave them out of the look).

Denim.

Jean jackets. You need to own at least one and always have it in your closet. Blue jean, light, dark, white…whatever. This can turn an outfit in so many different directions in a great way. It can spruce up a plain look, dress down a work dress, or just keep you warm during an unpredictable San Diego spring 🙂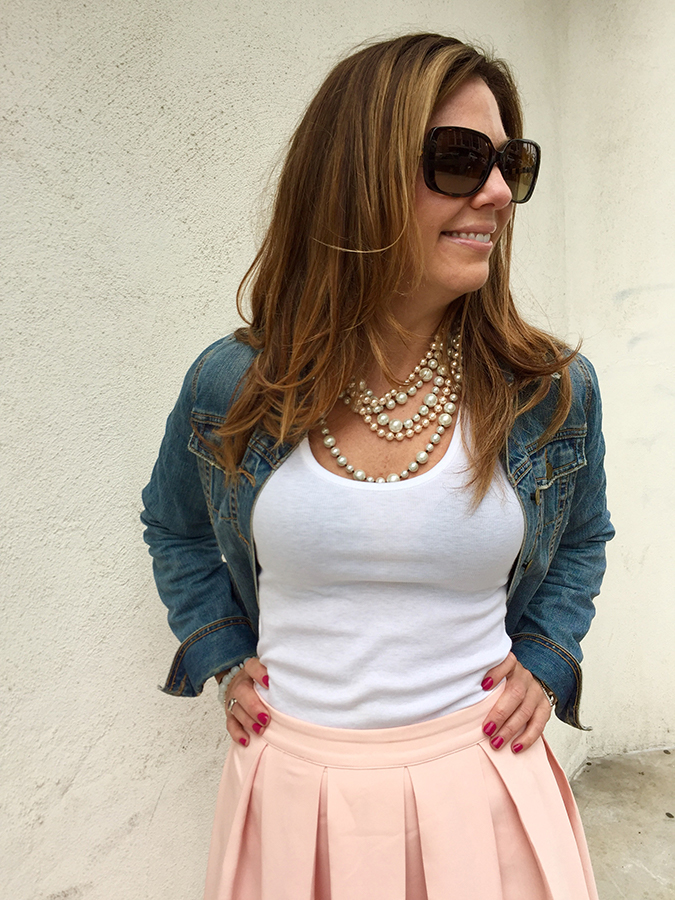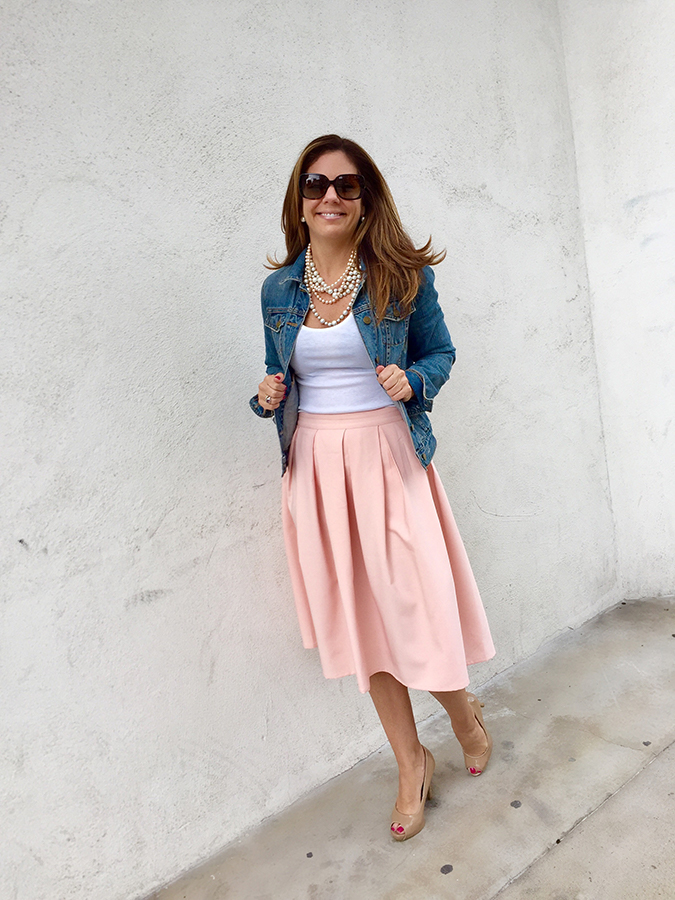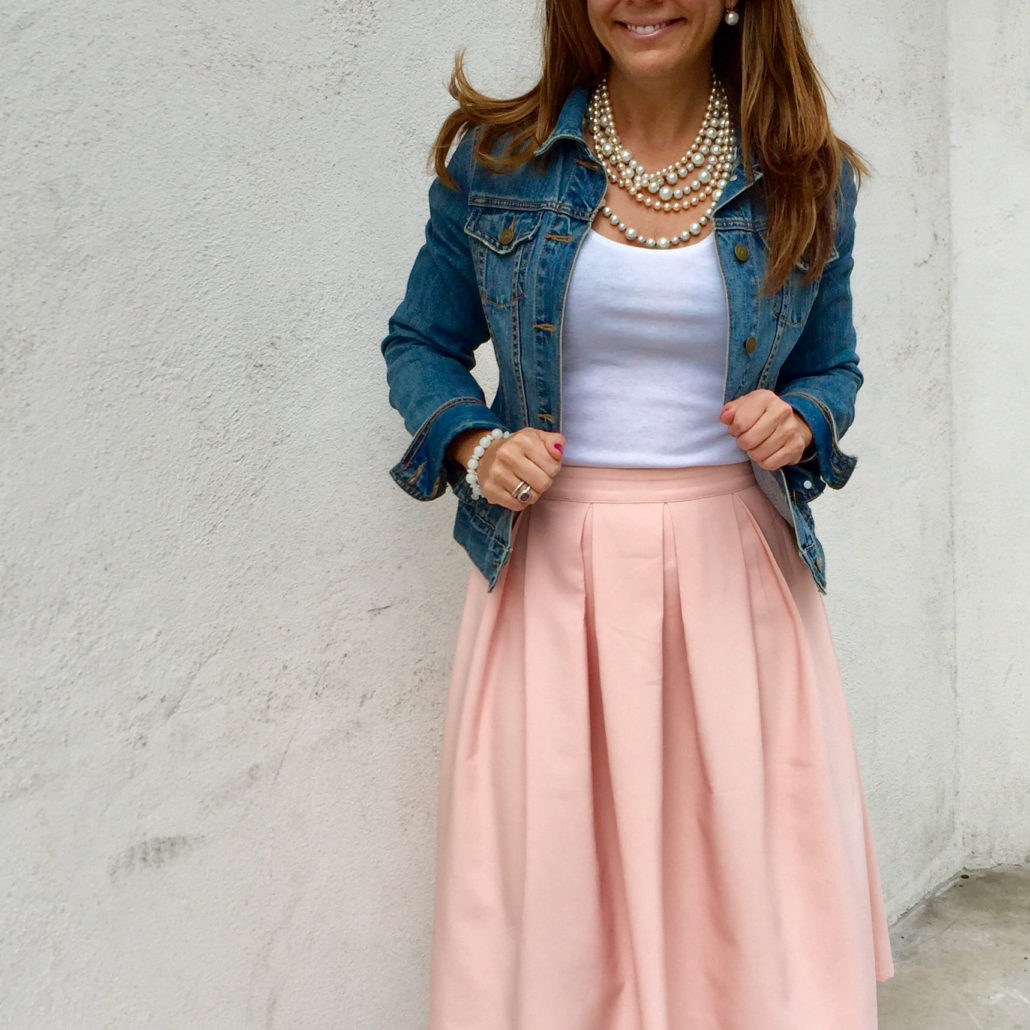 I hope this gives you some style ideas for spring! You can also pair this outfit with a simple white cardigan or a nude heel that doesn't have a peep-toe if you want. Personally, I prefer to wear a heel with this skirt based on the length but you can wear a sandal for a more casual look. It would be perfect look for a wedding/baby shower, afternoon party, and many more events.
I had such a good time at the San Diego Magazine Brunch Event at the Estancia, if you are in the area and can attend I HIGHLY suggest it. About 30 local restaurants show up and make a little dish to hand out at their booth and share while you drink beverages and listen to live music with about 200 other friends. There was everything you could imagine; frittatas, cinnabuns, french toast, rancho hueveros, donuts with COTTON CANDY on top (omg) and much more! This was the perfect outfit for the event!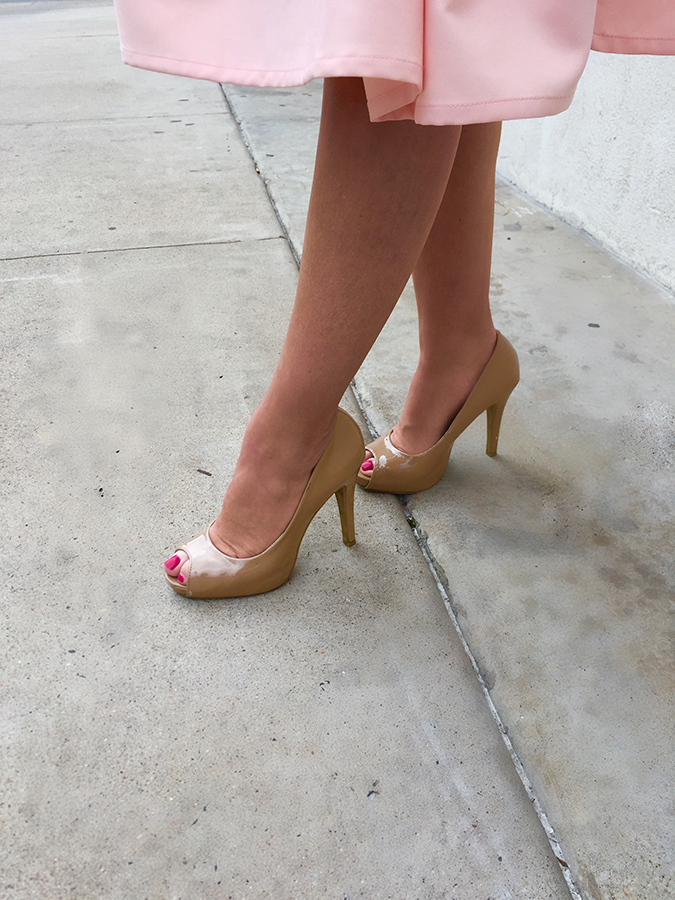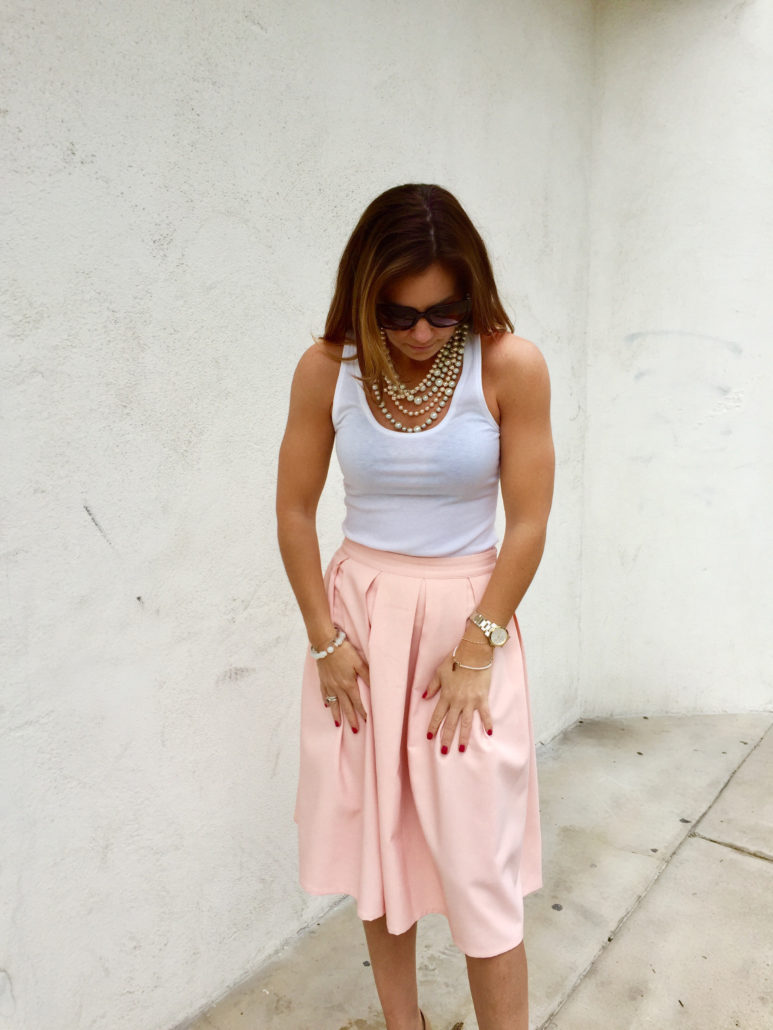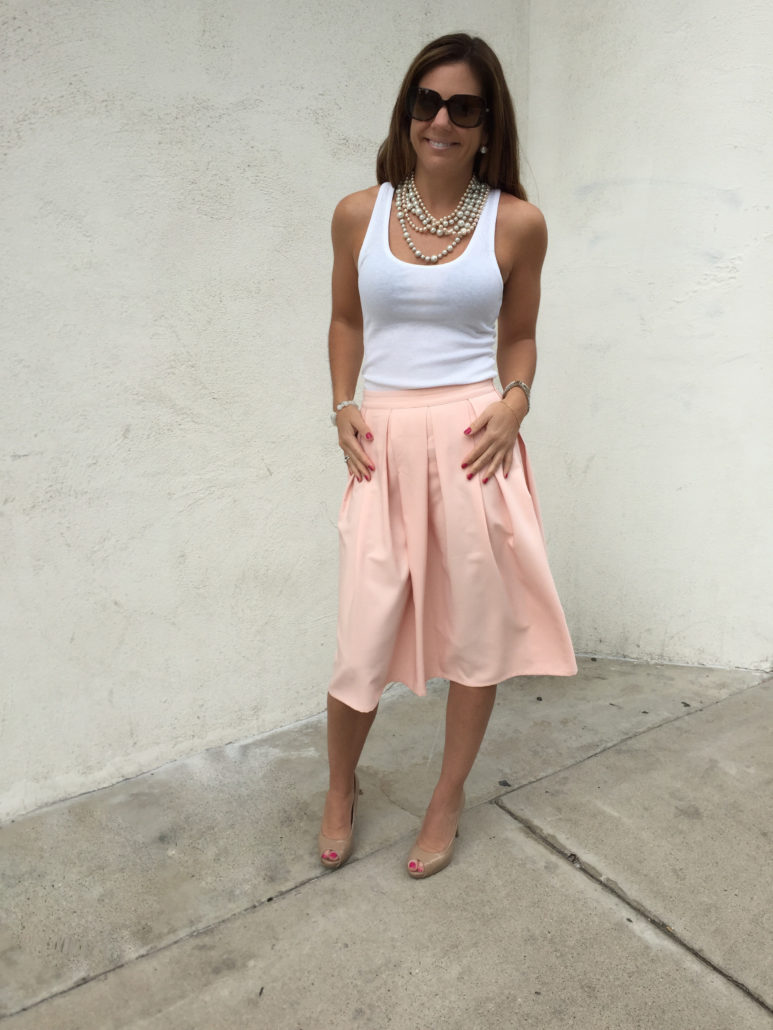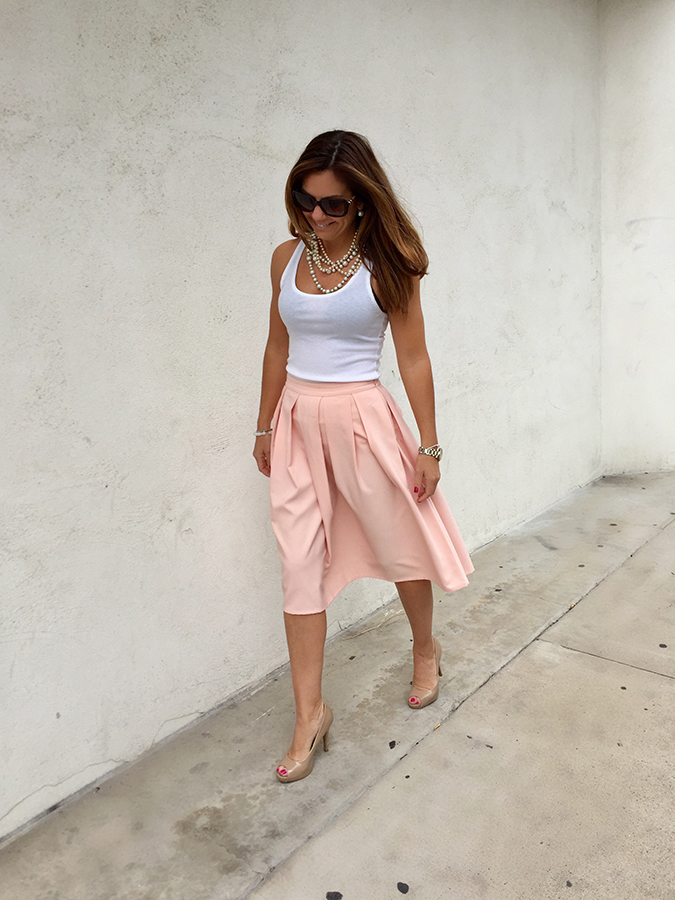 Here's your Bicoastal Beauty Tip of the week: I love gel nails but every few months I need to take them off and take a break with regular polish. To make your manicure last, apply a thin layer of clear every two days. Pay particular attention to the free edge at the top of your nails, where chips usually happen, and apply extra clear polish there.
Shop My Look & Similar Look

Click here to shop my looks.
Happy almost spring, friends. Please let me know what you think about these tips  and what else you want to hear about. What's your favorite part about spring fashion? Comment below!
xoxo, Kellie
Instagram
Instagram did not return a 200. Follow Me!