Please click here to – Follow my blog with Bloglovin
I heart this! This is what community looks like. Happy Valentine's day, friends!
Over the weekend I had the opportunity to visit the Shade Hotel in Redondo Beach and Sea Level restaurant for a Style Collective Valentine's/Galentine's Day fashion and lifestyle blogger event with over 30 other ladies! And most of these ladies I met for the first time time. The funny thing is that since I started my blogging journey in August 2016, I have been chatting/messaging  with many of these women on a daily basis via Instagram and the Style Collective website and had never met most of them. These are women and girlbosses I admire in the fashion and blogging community and was so happy to finally put names to faces, (well and Instagram accounts to faces hehe:). I am grateful for this  opportunity and to our hostesses, Catherine Grace O'Connell @catherinegraceo and creator of www.catherinegraceo.com and Jessica @petitestylescript creator of www.petitestylescript.com. They did an amazing job organizing the event and connecting with the hotel and all of our sponsor to make it a Red Hot Valentine's Day in Redondo Beach at the Shade Hotel for us all!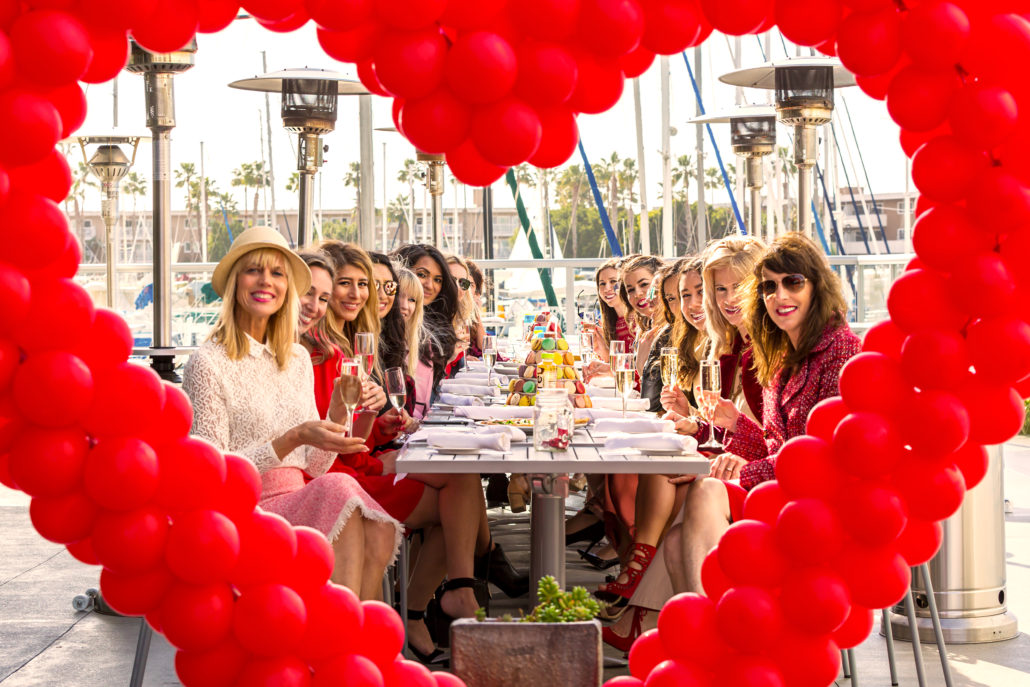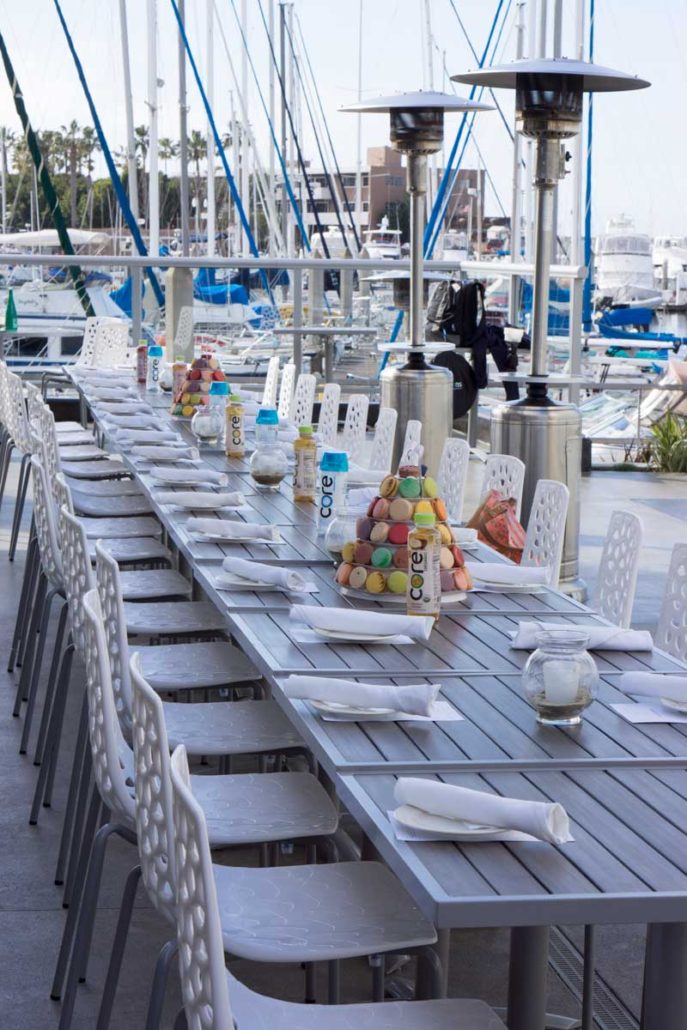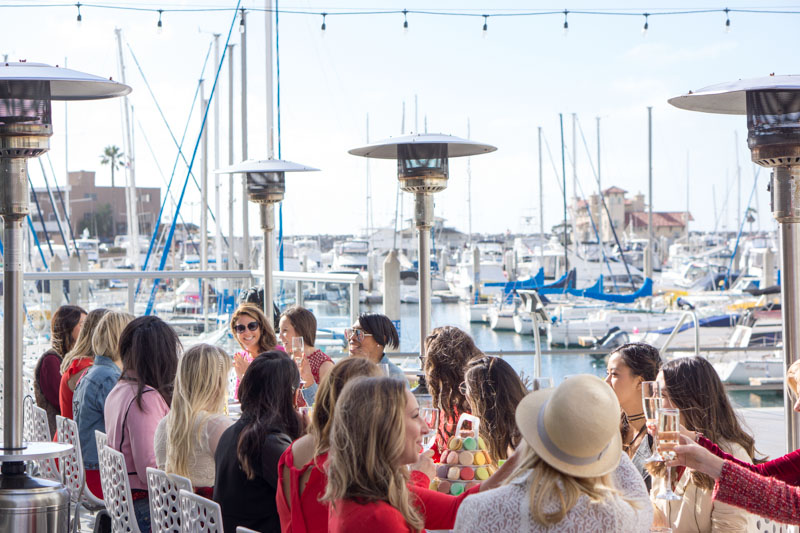 Style Collective sister bonding over appetizers and a cozy fire pit (and look at all those goodie bags)!
I can't wait to try some of the goodies, Dermalogica's daily superfoliant and a gift from Bloomingdale's Kiehl's counter.  I'm excited to use these new products!
Full sponsor list below.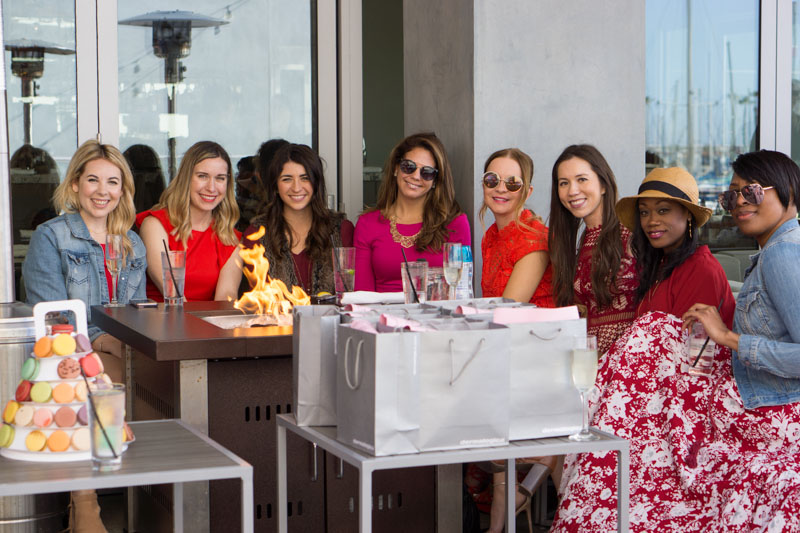 GuiltySoles.com is known for fabulous trendy shoes at super affordable prices. From over the knee boots, to sassy kicks and strappy sandals, these great shoes were donated to the raffle by Debbie Savage one of the SC sisters and creator of @tothineownstylebetrue (more info below). GuiltySoles also generously donated several pairs of shoes for the raffle and gifted every blogger a $30 gift card to use on their site. Whoo hoo!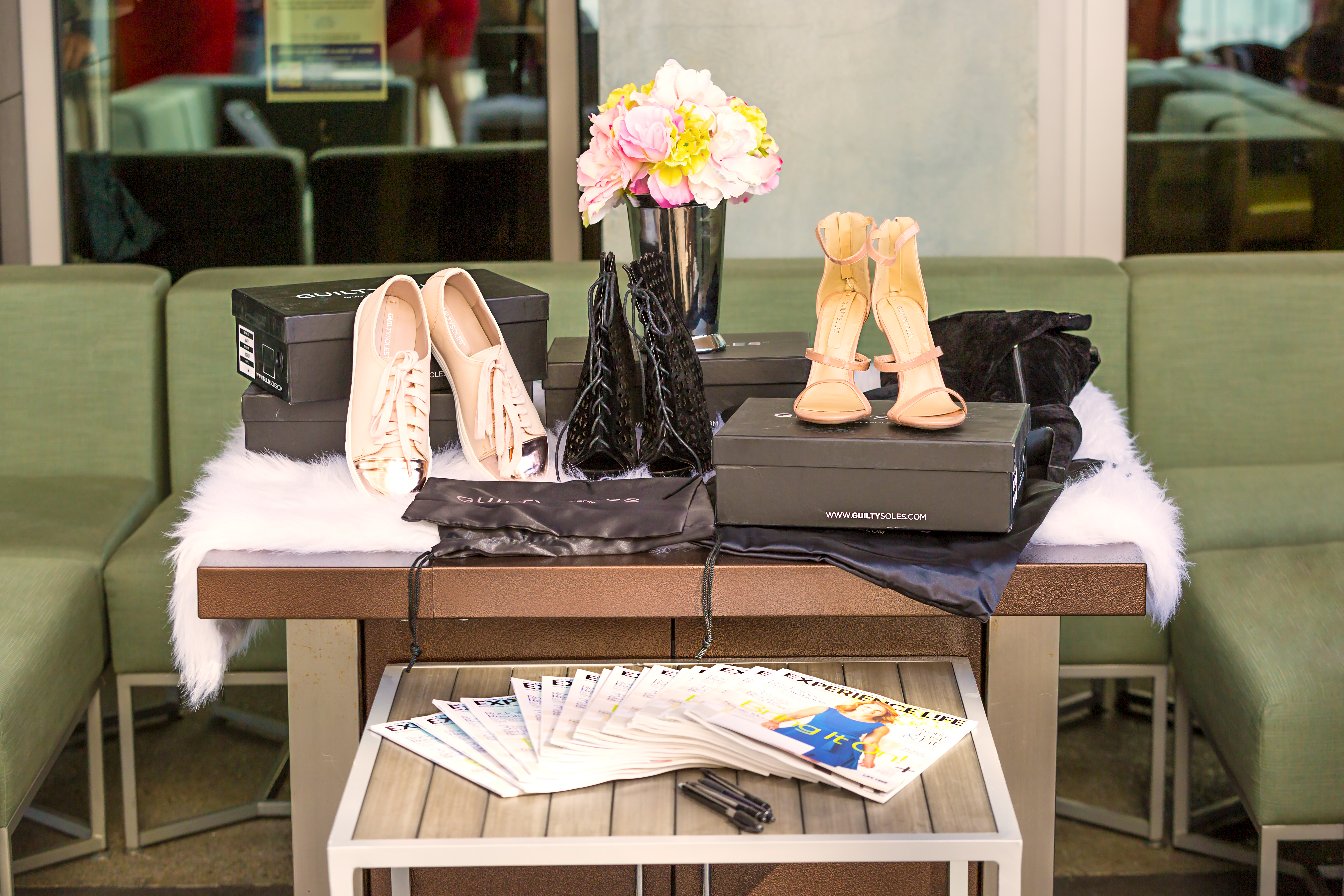 Look at this pretty tablescape!
Core Water provided the refreshments with their classic water as well as several fruit flavored varieties. Core is known for it's high quality reverse osmosis process which helps to balance the alkalinity in our bodies.
The colorful edible centerpieces were handmade for us by a fabulous company called, Lette Macarons. These special trees were made of the lightest and tastiest macaroons ever. Each yummy creation is hand made with love and there are so many delicious flavor options (I had a tie between the butterscotch and vanilla so I ate a few of each)!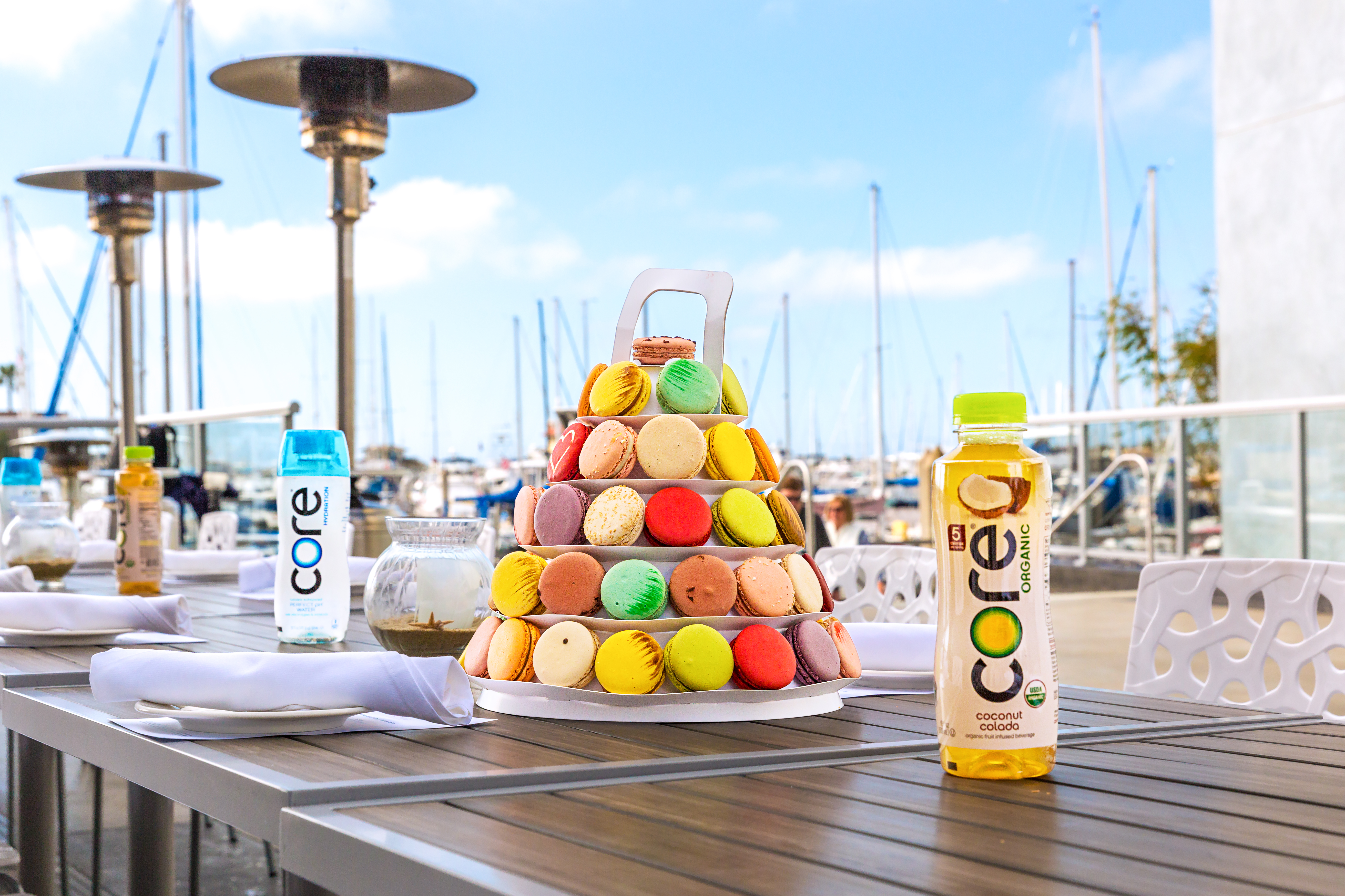 The food was delectable and we enjoyed time on the patio next to the cozy firepits and to sit outside and enjoy a late afternoon lunch on the scenic waterfront. We munched on two types of crispy  pizzas – one loaded with fresh cheese and one loaded with caramelized onions and the tastiest goat cheese, the freshest beet salad with arugula pesto and toasted pistachios to top it off. My favorite of the day was the beautifully presented citrus cured Hamachi. I also enjoyed the wild salmon caesar salad which was light but filling. The salmon was cooked to perfection with a crispy crust and the salad was fresh with the perfect amount of tang in the dressing. I could go for another one now!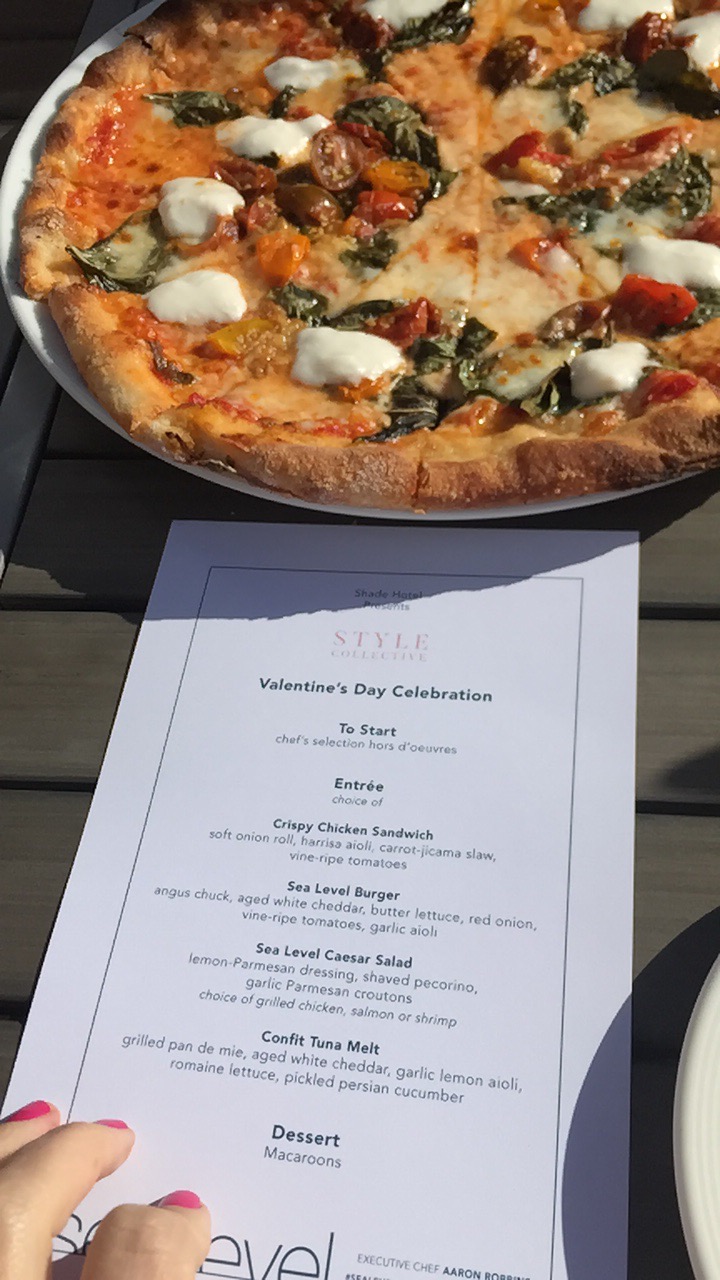 Style Collective iPhone cases!! Click the link to sign up and get one of your own.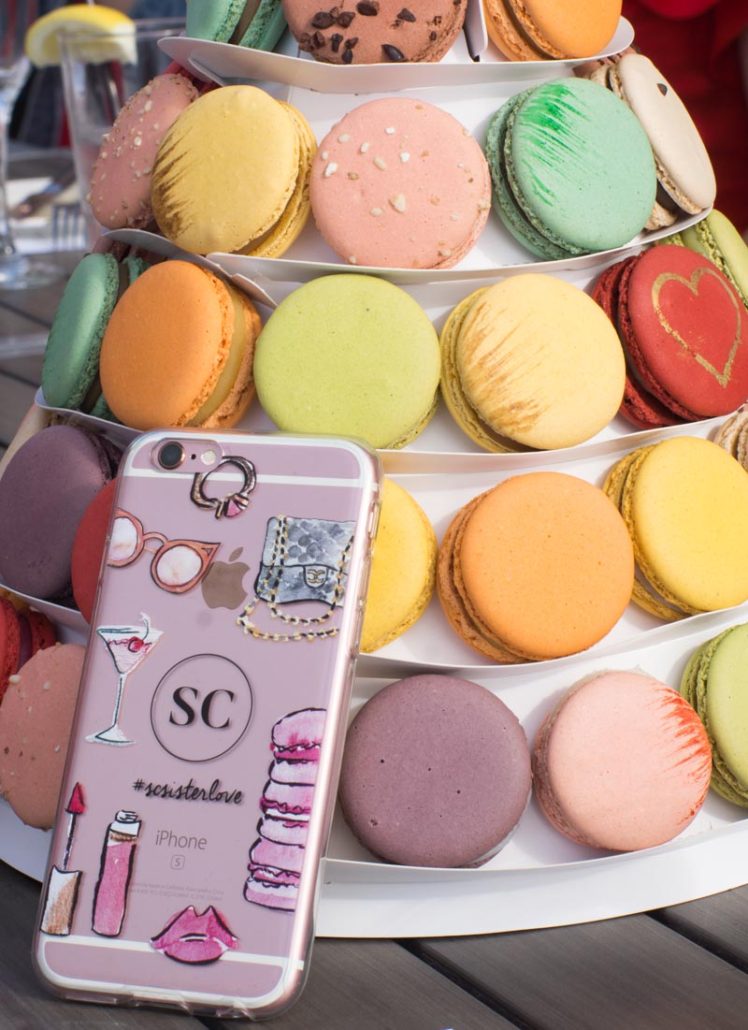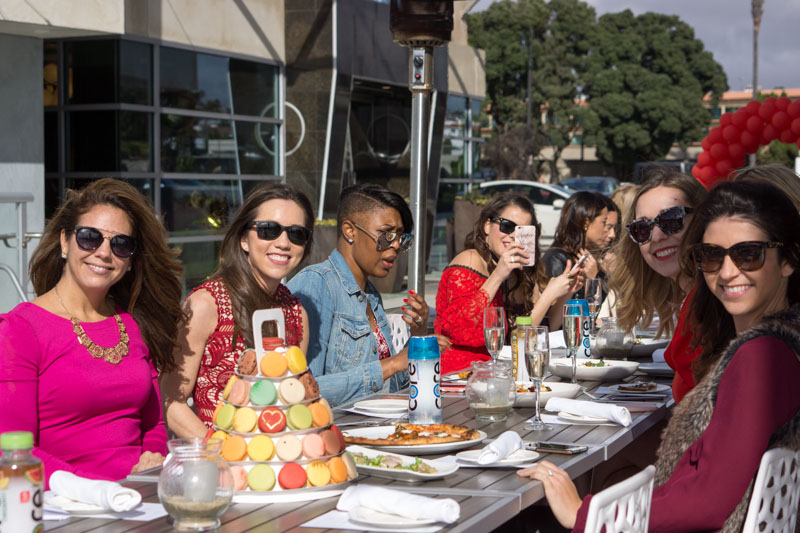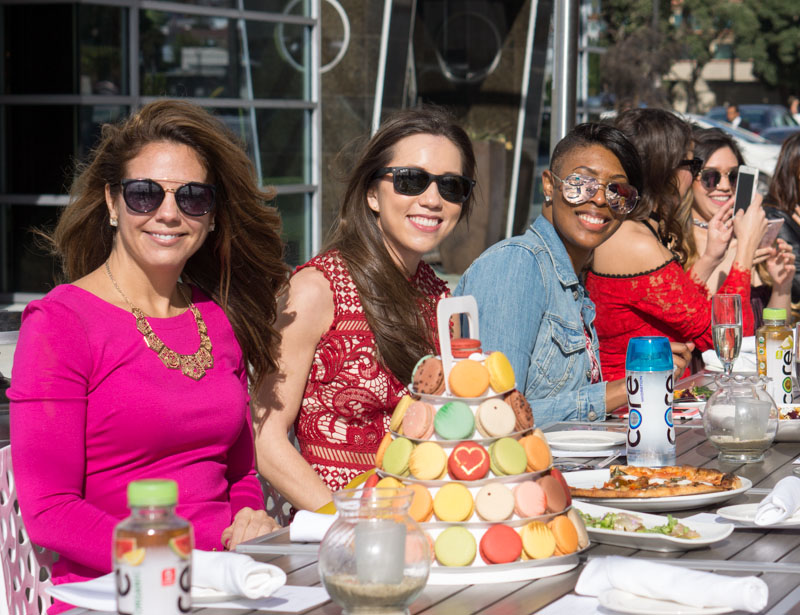 View from the roof deck of the Shade Hotel, what a view!
Shade Hotel, Redondo Beach is a brand new property located in the beautiful Redondo Beach marina and such a cool boutique hotel vibe and awesome patio with firepits and tables overlooking the marina. (I have a thing for marinas and harbor sunsets so this was totally my place)!!
The restaurant,  Sea Level, offers both waterfront dining or a casual bar with views of the marina. Light, bright and cozy, Sea Level bar is a great place for a casual evening.   The new hotel is the sister hotel to Shade Manhattan Beach, which is a mainstay with it's lovely cocktail bar and outdoor patio.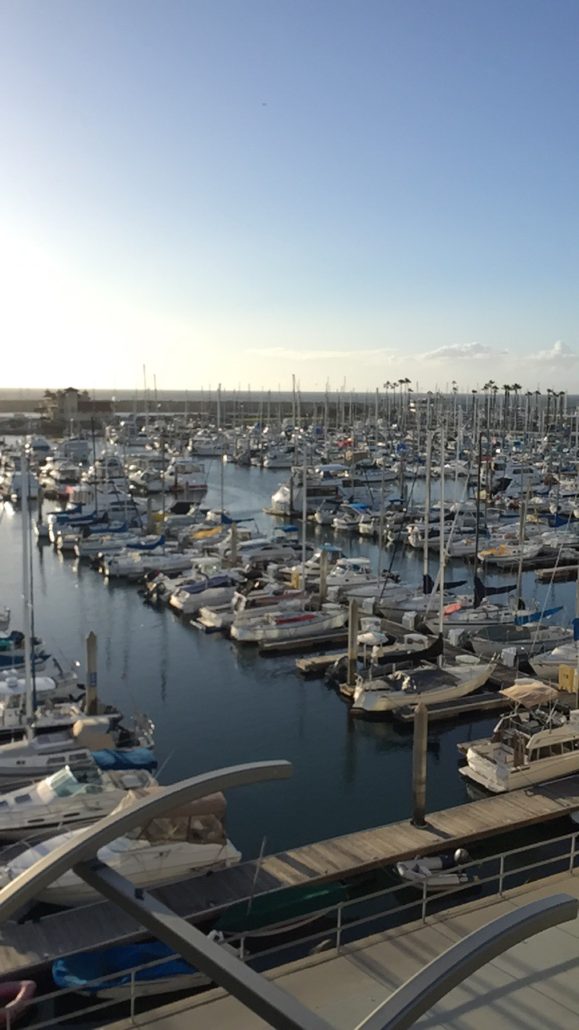 Look at these balloons! Balloons just take an event to another level of  fun, don't you think? Balloon Celebrations went out of their way to ensure the event was a success by setting a lively and fun vibe. They even created a special balloon design as a gift for our celebration and you'll see below, helped us spell out Style Collective!! How cool is that?? (I also just LOVE the pink and red balloons you'll see at the end with Catherine and Jessica).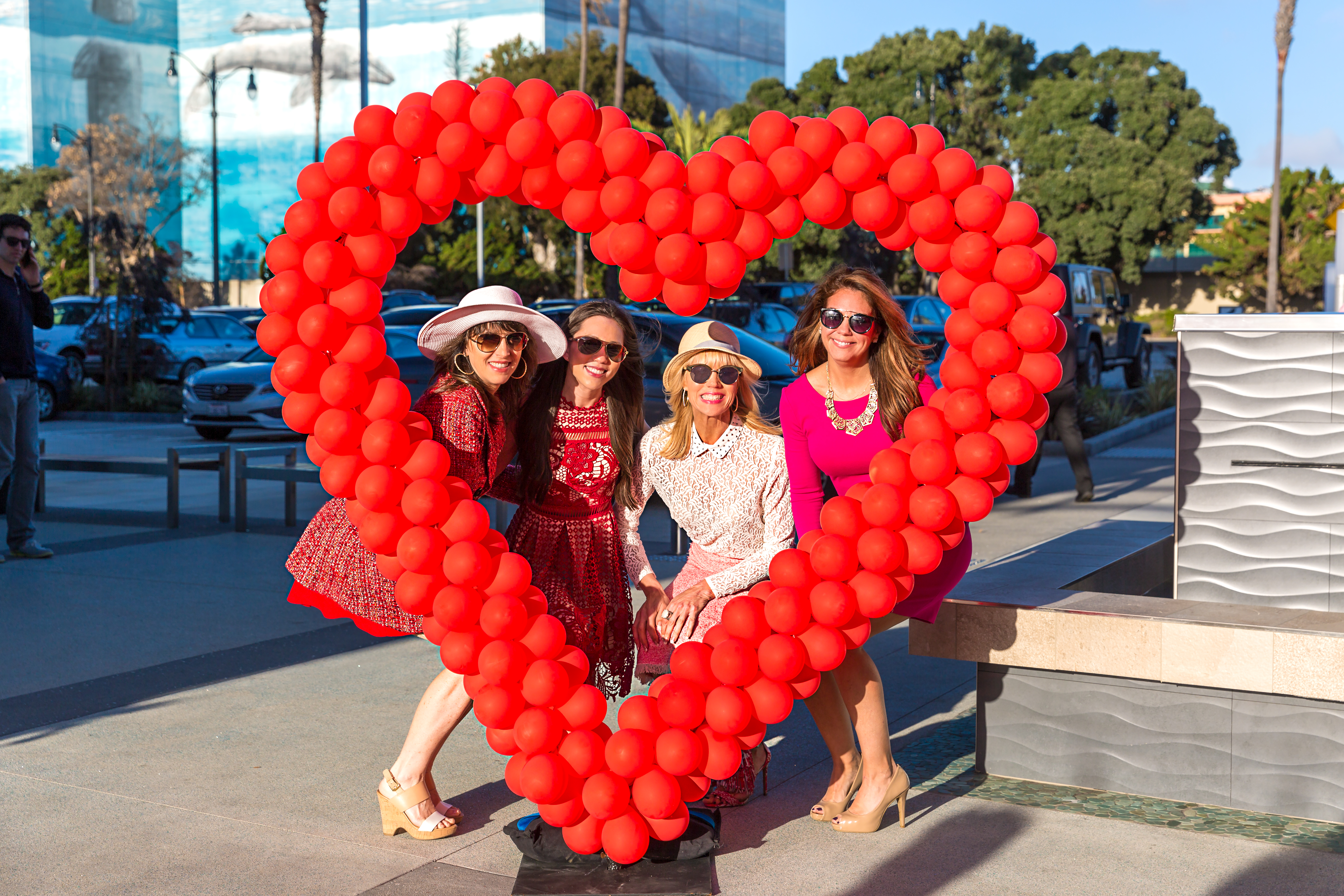 We spend the day forming new connections, sharing our fashion blogging and life journeys together. I met a few more fellow San Diego bloggers and am looking forward to seeing some of the girls who lived further more, online and for more gatherings!
If you want to learn more about this sisterhood that has really helped me meet and connect with such wonderful community of like-minded women, click my link below. I love the connections It has brought me, it allows me to have somewhere to go to get answers to the millions of blogger/website/Instagram questions I have along with providing webinars, trainings, education and online forums to connect with women and so much more.  I would have been lost without Style Collective and with my SC sisters I know I'm not alone in this journey. They are literally all around the world, it's truly amazing what can be done accomplished with a community!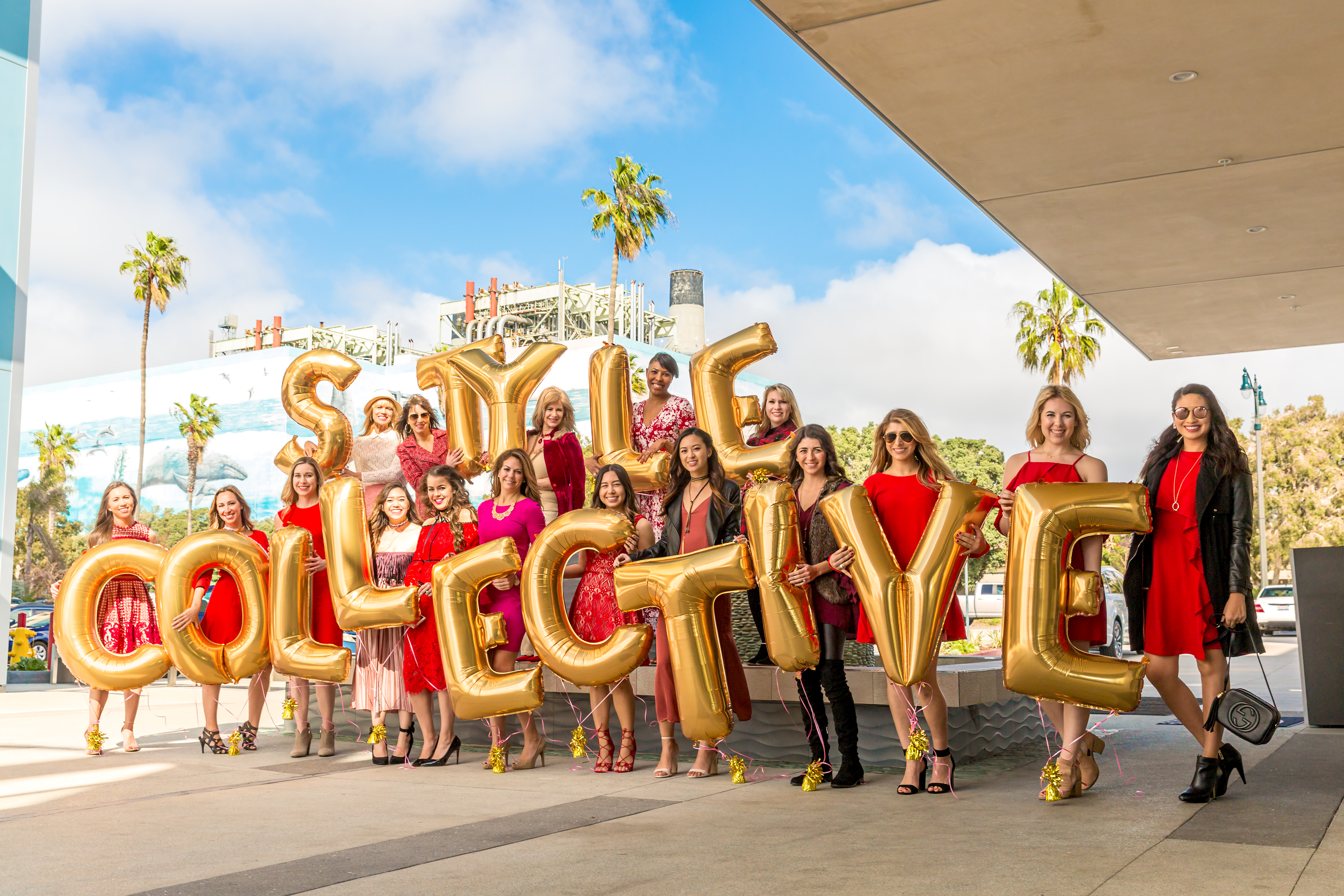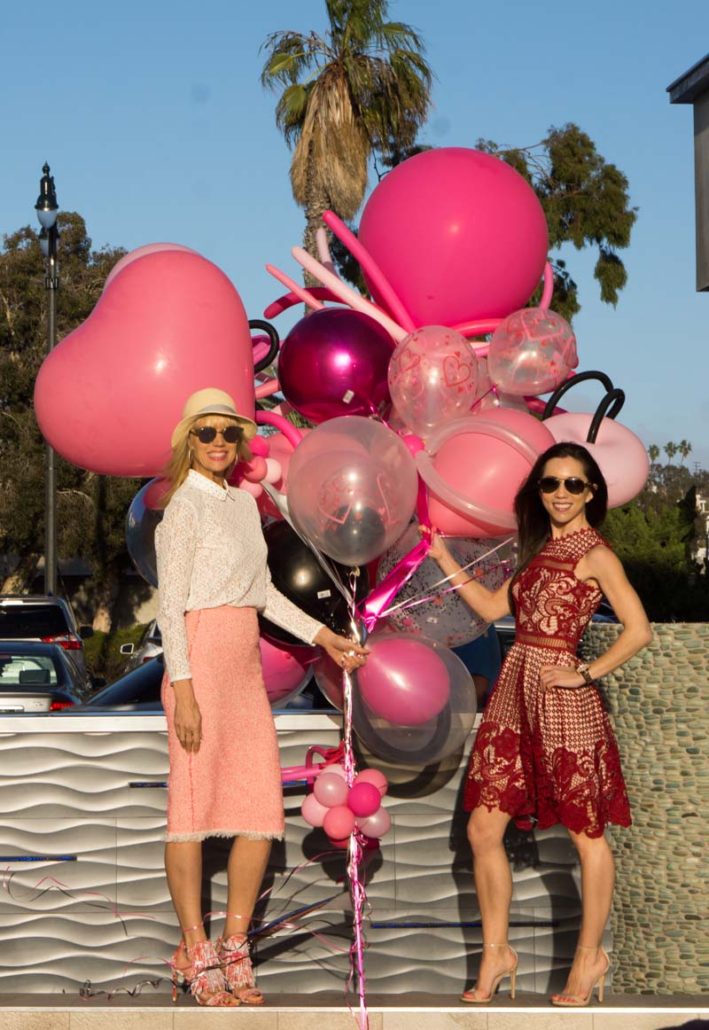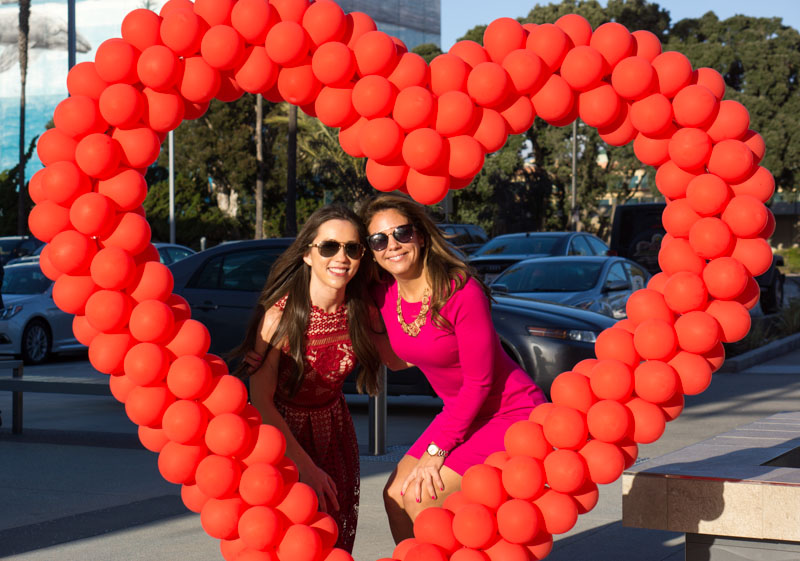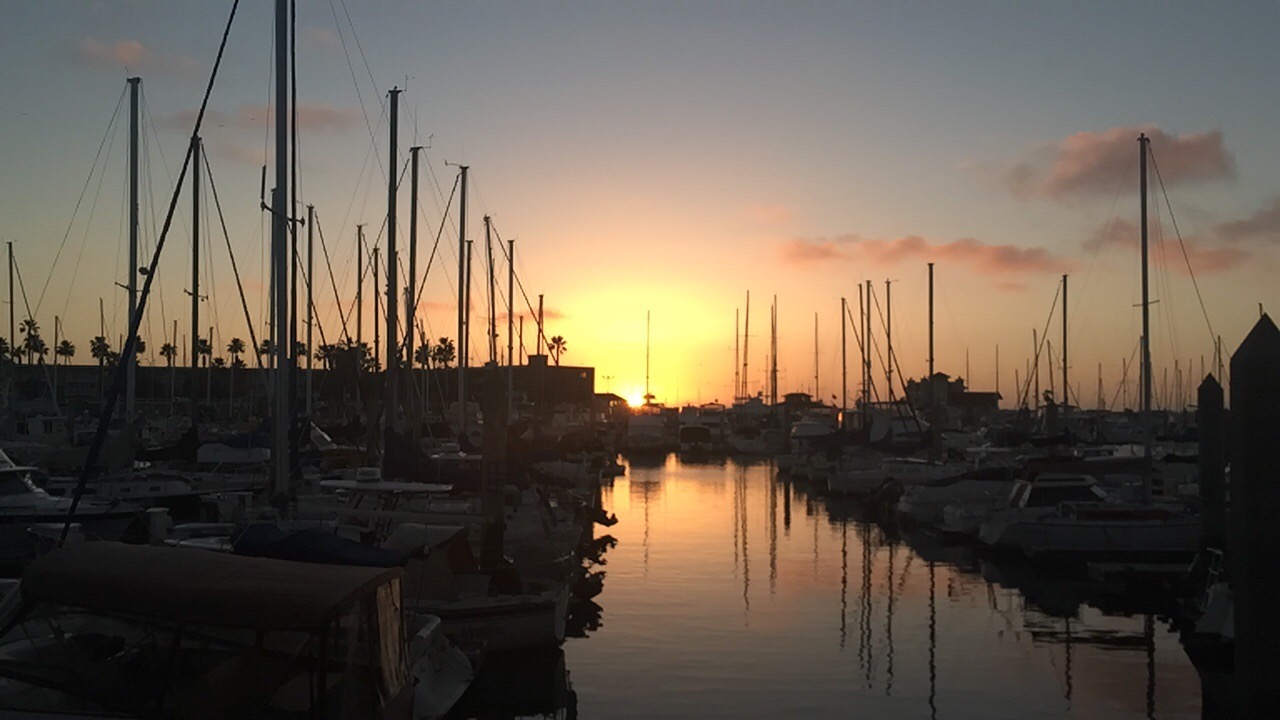 Click here to add your own text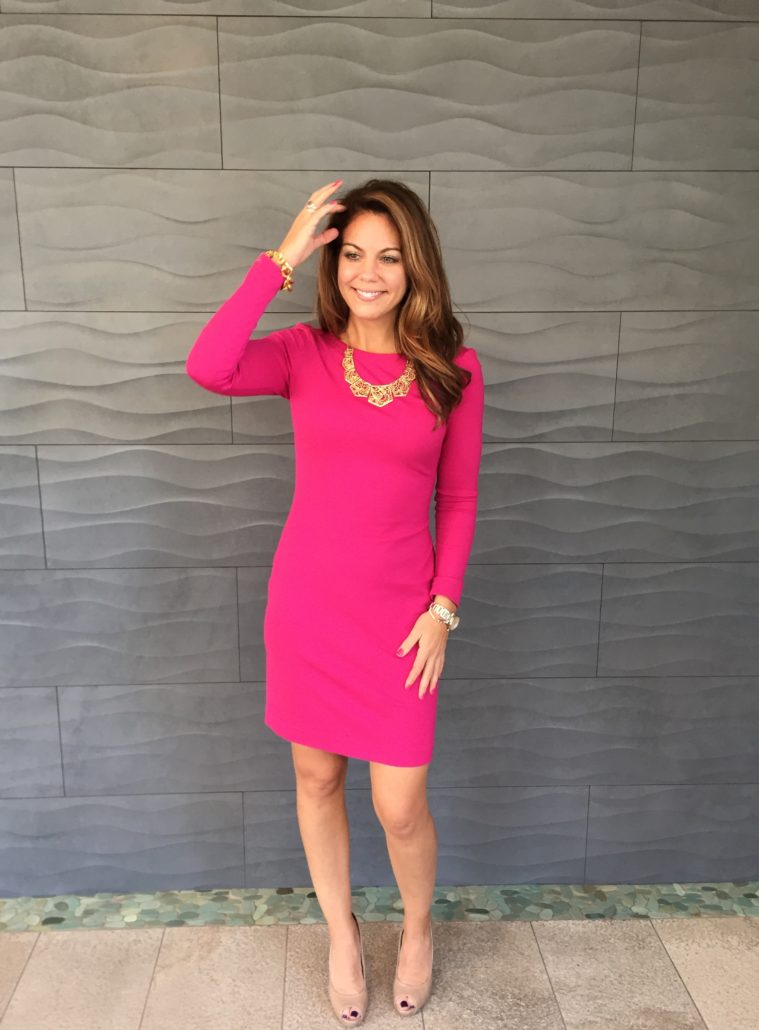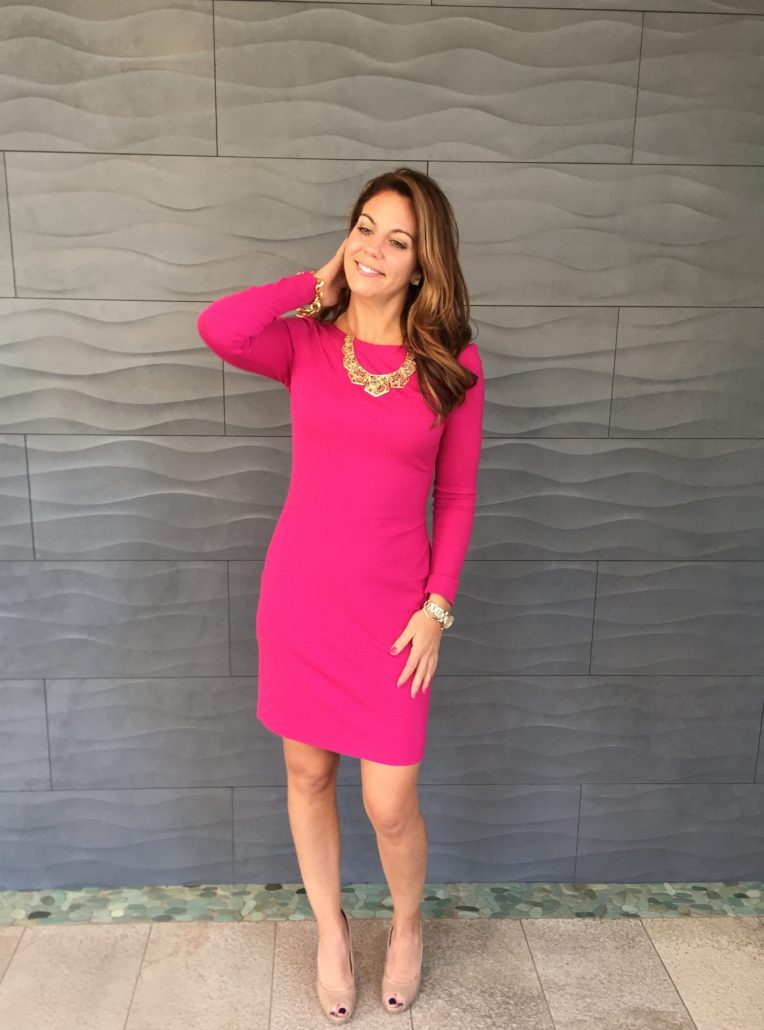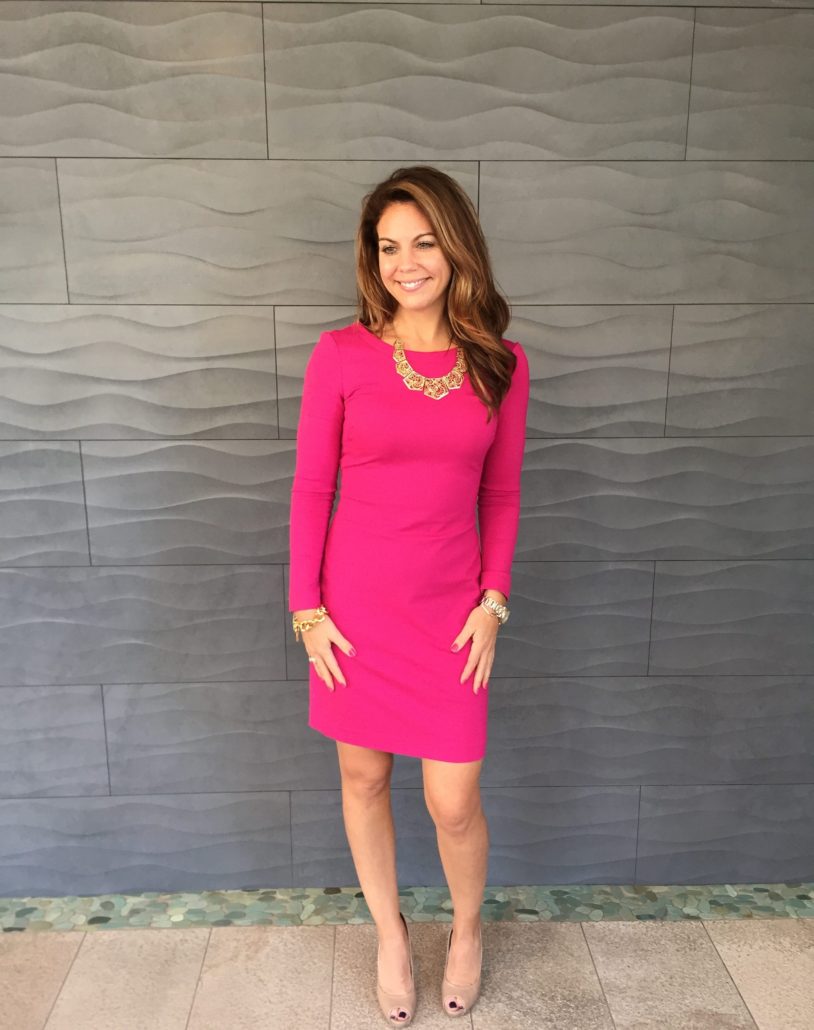 Thank you to our amazing and generous sponsors:
Thank you to our stylish SC Sisters from Southern California for driving as far as San Diego or flying from San Francisco to attend…now that's dedication!

Here's your Bicoastal Beauty tip of the week – SELF LOVE! If you are single or celebrating the holiday with a loved one, partner or friends, remember, no matter what, today is another day and YOU are loved and YOU are enough!!
Xoox, Kellie
And there is more to come. I am working on my next post from Thailand (sunrise hike to a temple and lantern release). Then next up, winter layers!
Please leave a comment below, I would love to hear from you! Also please enter your name and email to get exclusive tips and blog updates, now available when you visit my website.
Also, if you want to sign up and join our wonderful sisterhood with Style Collective, please use the link below:
Instagram
Instagram did not return a 200. Follow Me!