Click here to – Follow my blog with Bloglovin
Have you signed up for my blog? You will get a pop-up from your browser, look out for it and sign up there, that way you will be the first to get my posts 🙂
I hope you are enjoying  the Traversing Thailand series, and if you missed the last post on Chiang Mai's hidden Gem, Fern Paradise/The Tree House, you can check it out here. 
The week before that, I posted all about Bangkok and international travel tips, check it out here.
I'm continuing my series of posts about my adventures in Thailand with a lantern release and  sunrise hike to Wat Prathat Doi Suthep, both in Chiang Mai.
On New Year's Eve we were so lucky to be in Chiang Mai to be able to participate in a lantern release! You guys, this was such an amazing life experience, if you ever have the opportunity to be in Thailand during New Years, I highly suggest doing this. It was just amazing. I think there is another festival that is similar in November, here is the info I found on that if you want to check it out here.
We went into Chiang Mai around 5pm and stopped for a massage, of course (500 baht, we chose our oils and they served us the most delicious ginger tea afterwards). It was the best massage I had in Thailand!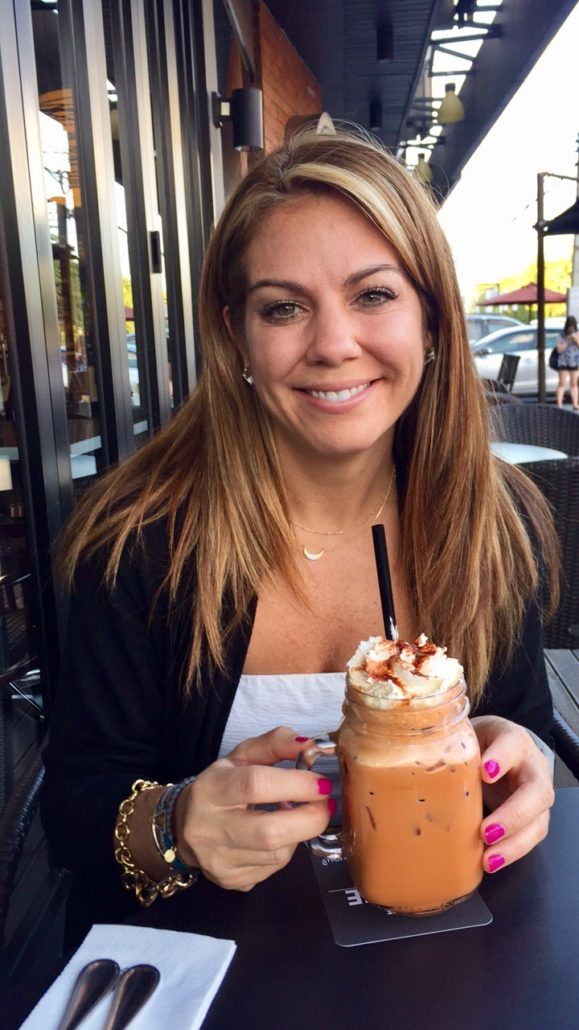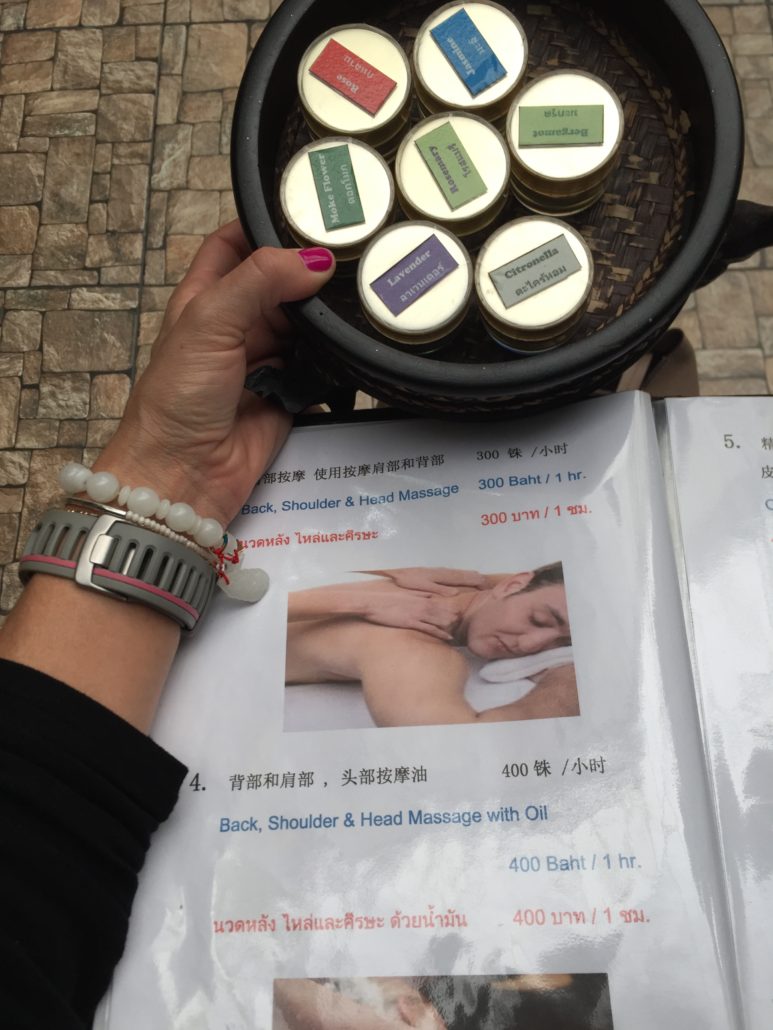 After our heavenly massages we walked around the night market, that was right in the heart of downtown Chiang Mai, and there was such great buzz in the square all night.
The market was filled with local vendors (like the one we went to in Bangkok) and I picked up several little elephants that were hand painted (they mean good luck with the trunks up)! There were so many cool little gift items to choose from: mala beads, journals, scarves, handmade cards, clothing, and of course, tons of food! We ended up chatting with one vendor, he was in his late 70's and he was a big runner.s. It was so cool to chat with him about his life and running experiences! He still runs at least one marathon every year, and even into his 70's was able to run 8 minute mile paces – how inspiring!
Around 9pm we went to the main square, Si Phum, to get our paper lanterns for the release.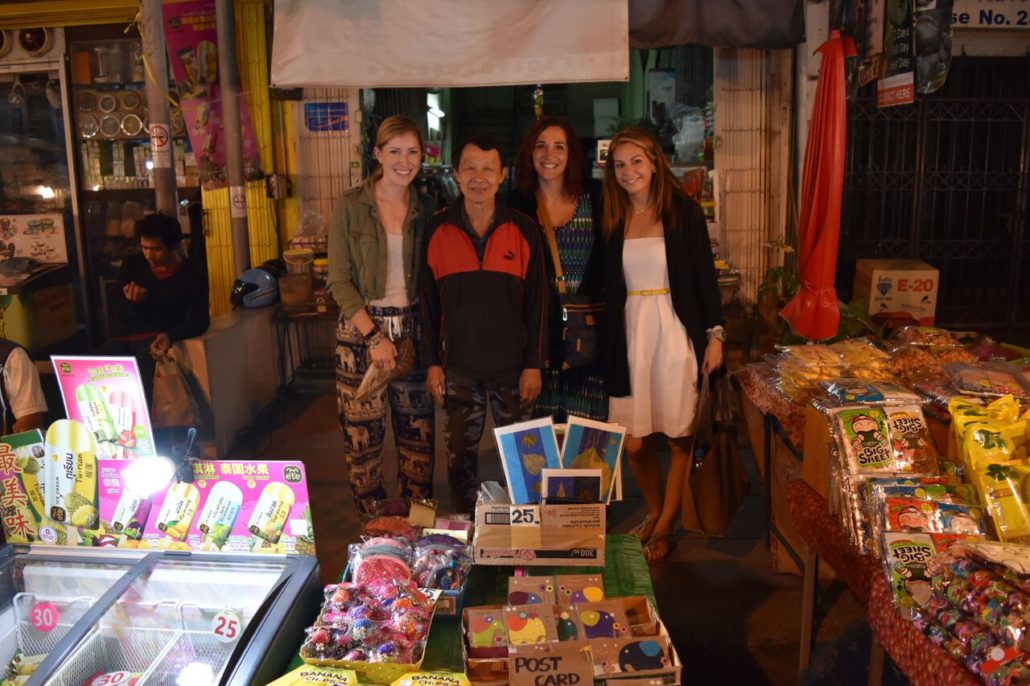 I had no idea what this entailed other than the few pics I'd seen but there are a few things to consider if you're going to participate:
Bring a permanent marker to write your intentions or wishes for the year ahead on your lanterns

Bring Thai baht to purchase the lantern from a vendor in the square (they are everywhere and about 100 baht)

Bring a lighter!! (This seems obvious, but we forgot.  You can totally borrow someone's if needed though, like we did)

Be aware of your surroundings, some of the lanterns come down from the sky if they were released too soon and have open flames*

When you light the lantern, allow it to fill up with 

air and for it to billow (fully) out before you try to release it, so the gas will allow it to float. If you release too soon, it will fly down into the crowd. You can lightly try to release to see if it will take flight – if not, keep holding it until it effortlessly starts to float up
*Don't worry, fire trucks are standing by for any major issues.
You can write your intentions for the coming year on the lantern directly and say them to yourself or out loud before you then let your lantern go into the sky! There is something so amazing about knowing your wishes and intentions are sent into the universe, seeing thousands of lanterns floating in the night sky on the eve of the new year! It was so incredibly beautiful, watching them float all night long and then at midnight, to see thousands more released.. The main square also had a countdown for the new year, just like we do at home! And at the end, lit off two (yes, just two…) fireworks… it was a subdued year with the King's recent death (see more on that in my Bangkok post here).
(Yes it may not be the most environmentally sound situation but it's been one of the coolest things I've done in life and on my birthday)!
Here are some pics and videos!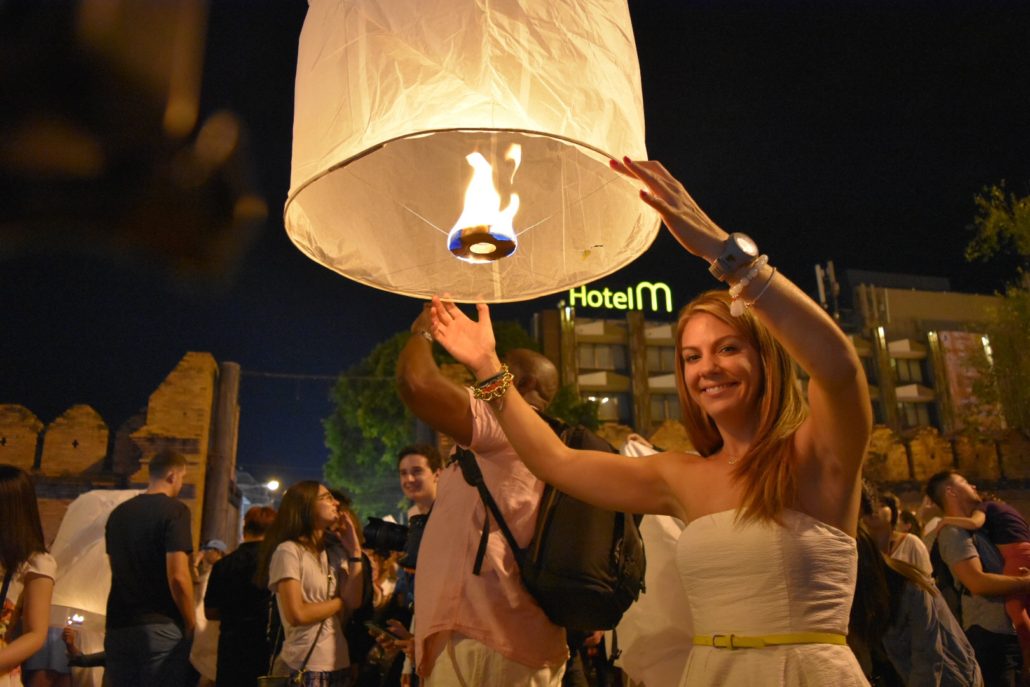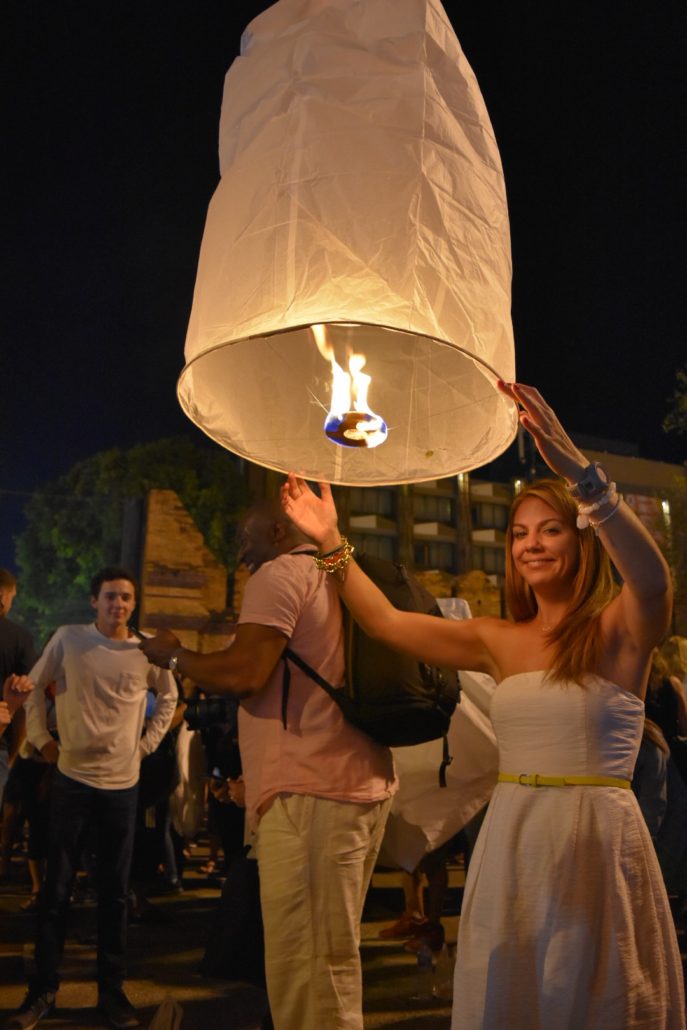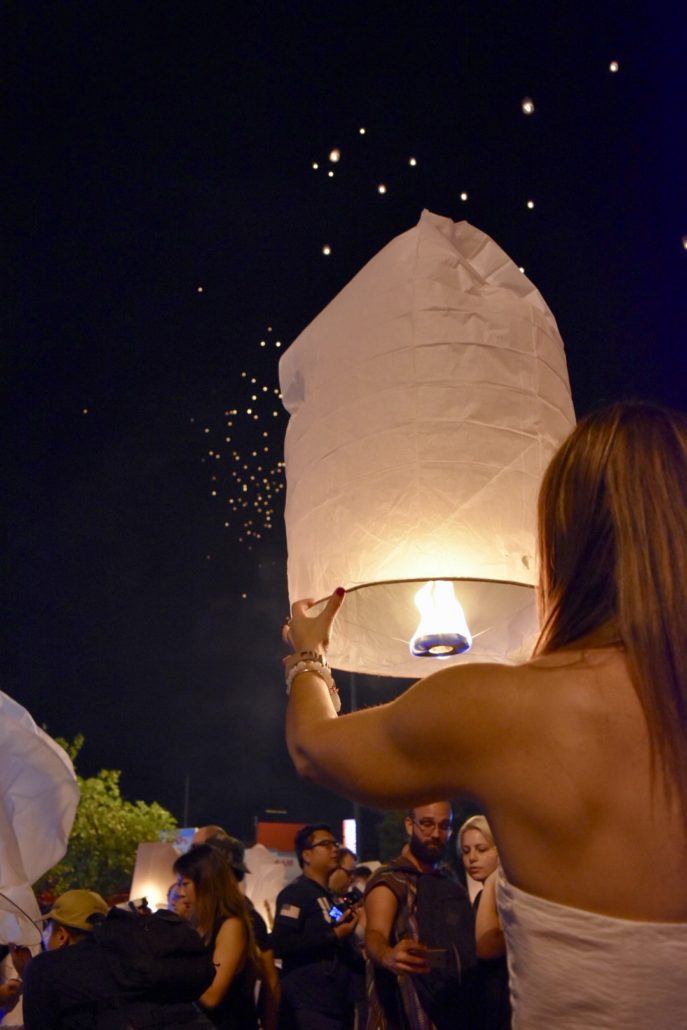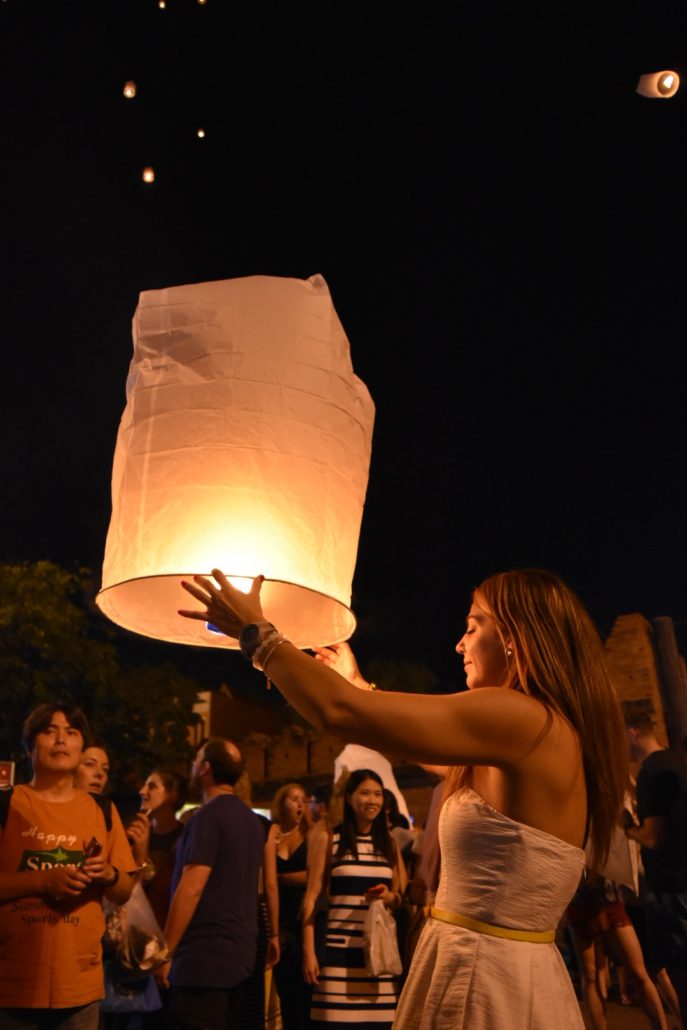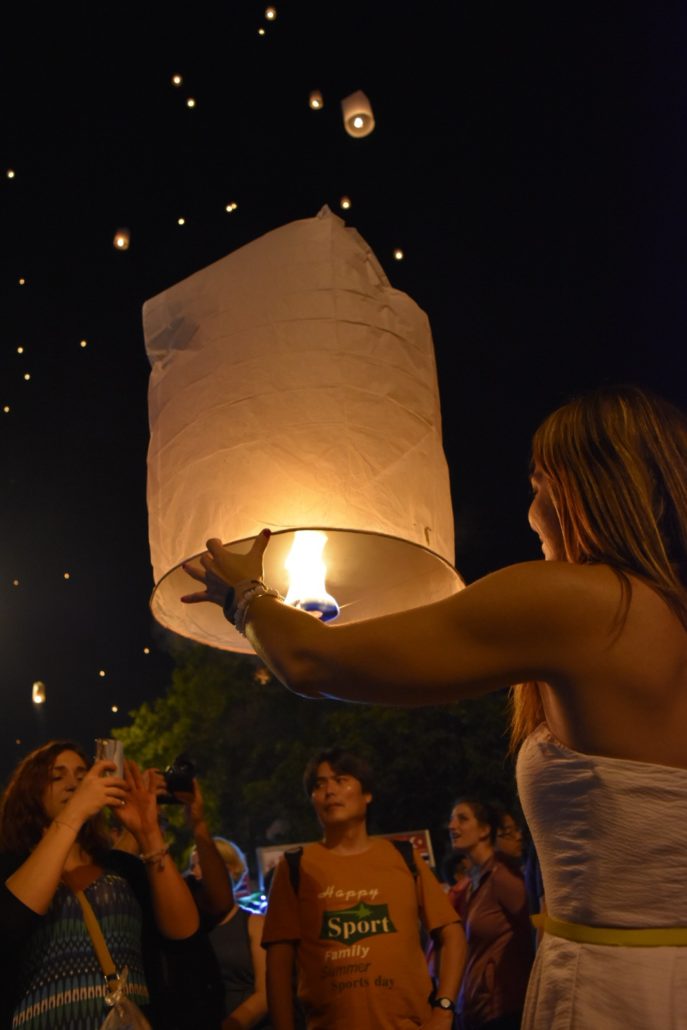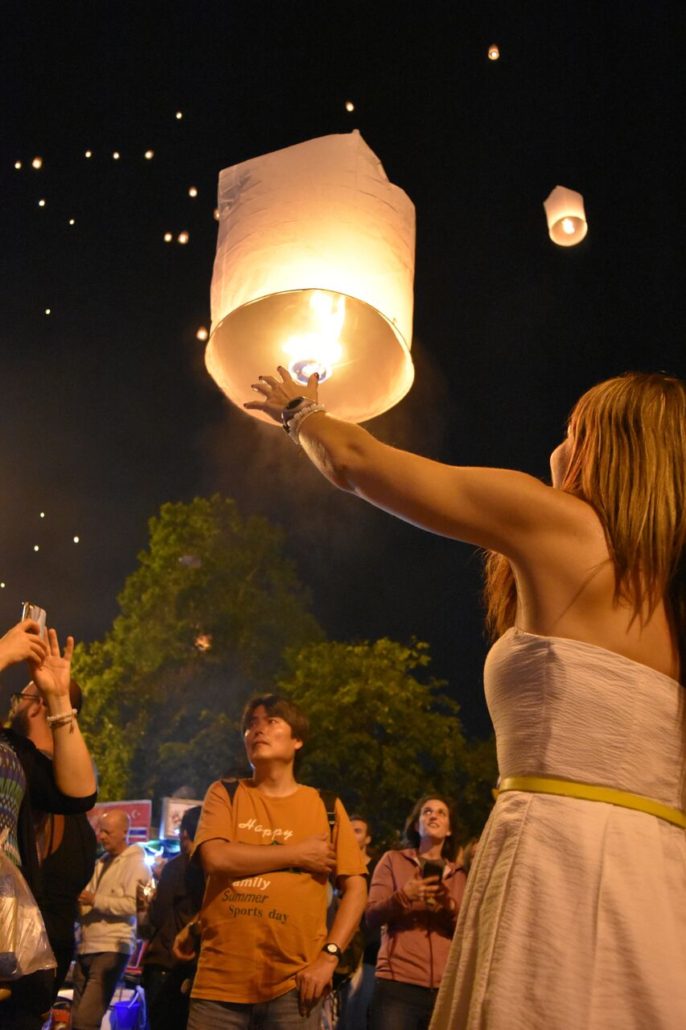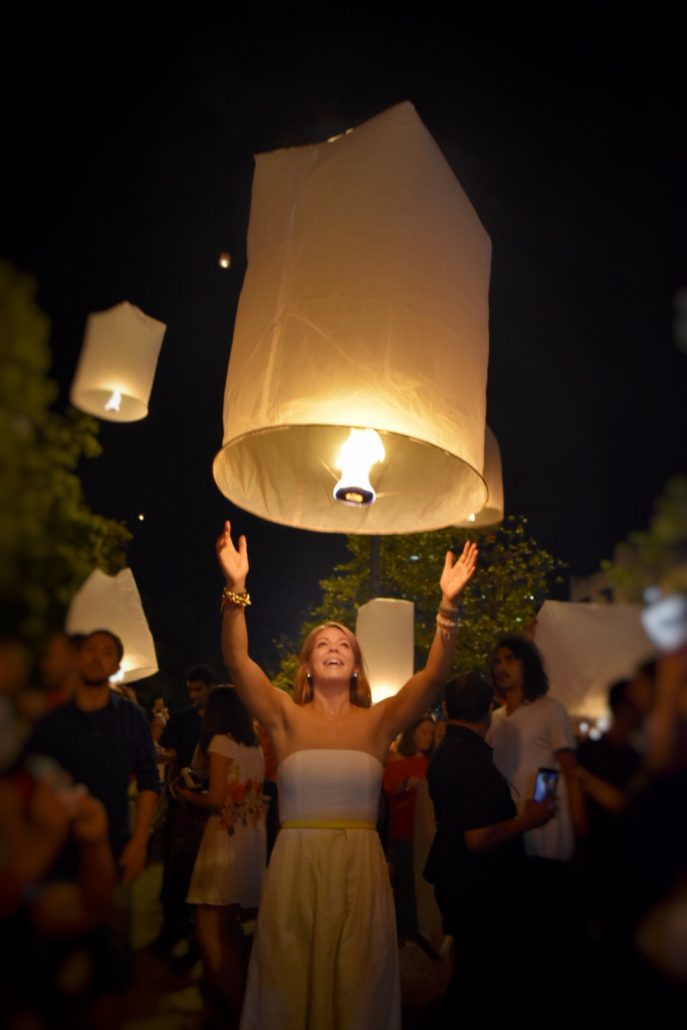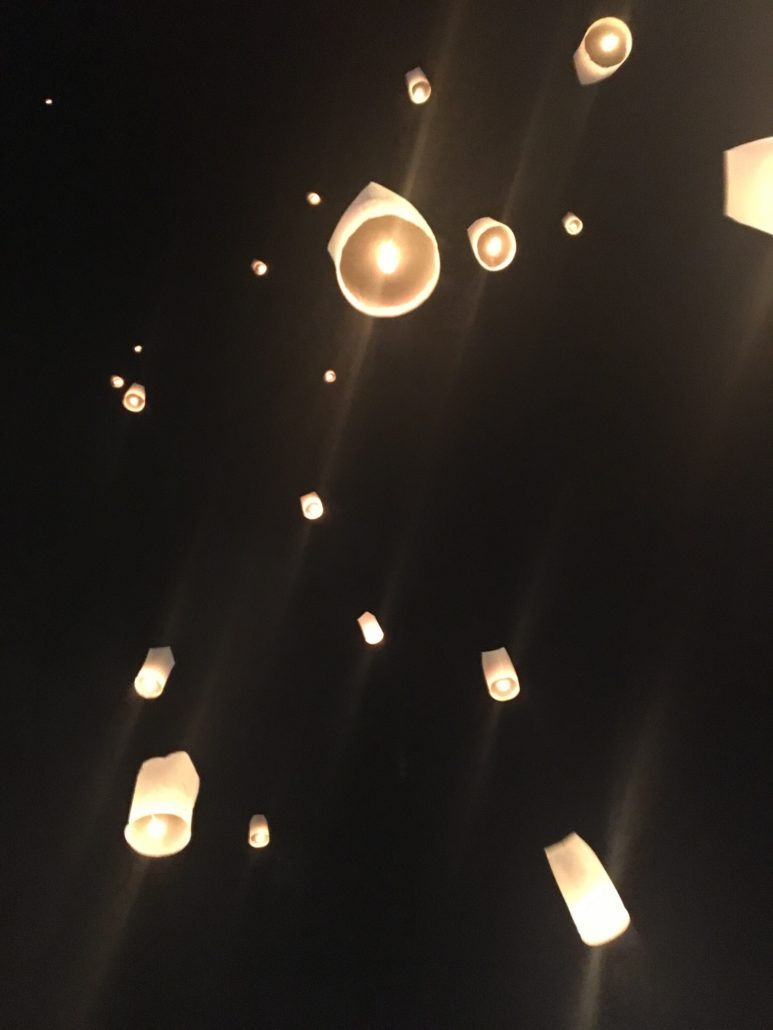 Sunrise Hike – Wat Prathat Doi Suthep, Chiang Mai
I'll be honest, it was the morning of NYE and my birthday and at first I didn't want to get up at 4am to do sunrise hike… but I couldn't have been happier that we did! If you go, I totally suggest a sunrise hike, it was an insanely beautiful and spiritual way to start the day (and end 2016)!
We took a taxi from our B&B up to the top of Doi Suthep hill; the temple we found here was built in 1383 to enshrine Buddha's relics.
When you arrive, you walk up 290 steps which are flanked on either side with large dragon sculptures, which was very cool. When you reach the top, it's 3,520 feet above sea level and if you go at sunrise you can watch the magical colors against golden Phra That (chedi)…what's a chedi you ask? I know, I wondered too! According to google it's a dome-shaped structure erected as a Buddhist shrine.
While you are there, you can pray to Phra That for good luck and walk around the chedi. It was truly spectacular to see, check out the pics below.
Bring some Thai baht to donate in exchange for candles to light and flowers to offer at the altars, and for vendors around the area,  if you choose. We also went into the temple and had the opportunity to be blessed by a monk –  such an awesome experience!
On the other side of the terrace from the temple, there were panoramic views of the countryside and Chiang Mai. The views were a little obstructed  with fog, but that made it that much more mysterious! (add pic here)
I would plan to spend about 2 hours here total for climbing and exploring. The climb took 10 minutes or less (if you aren't physically active it may take longer), and is a great way to get your heart pumping in the morning.
**Reminder that at all temples, you should  wear respectful attire –  a shirt that covers your shoulders and a longer skirt or pants to cover your knees**
See my travel post for more on this here.
Opening hours: 6:00 am – 5:00 pm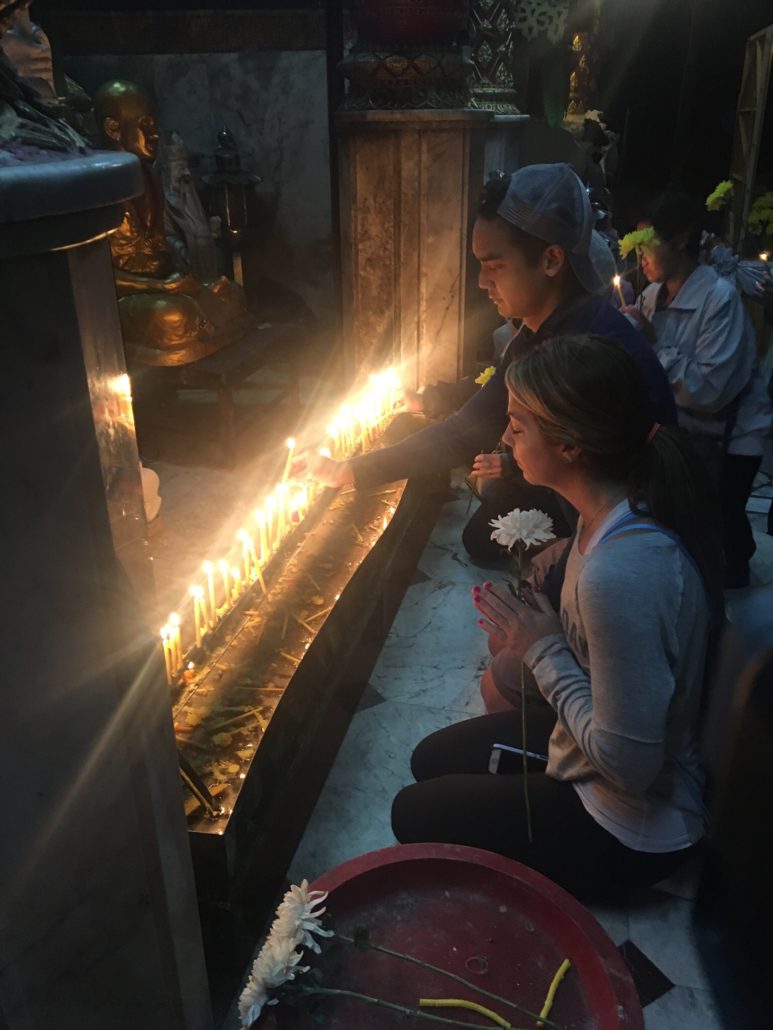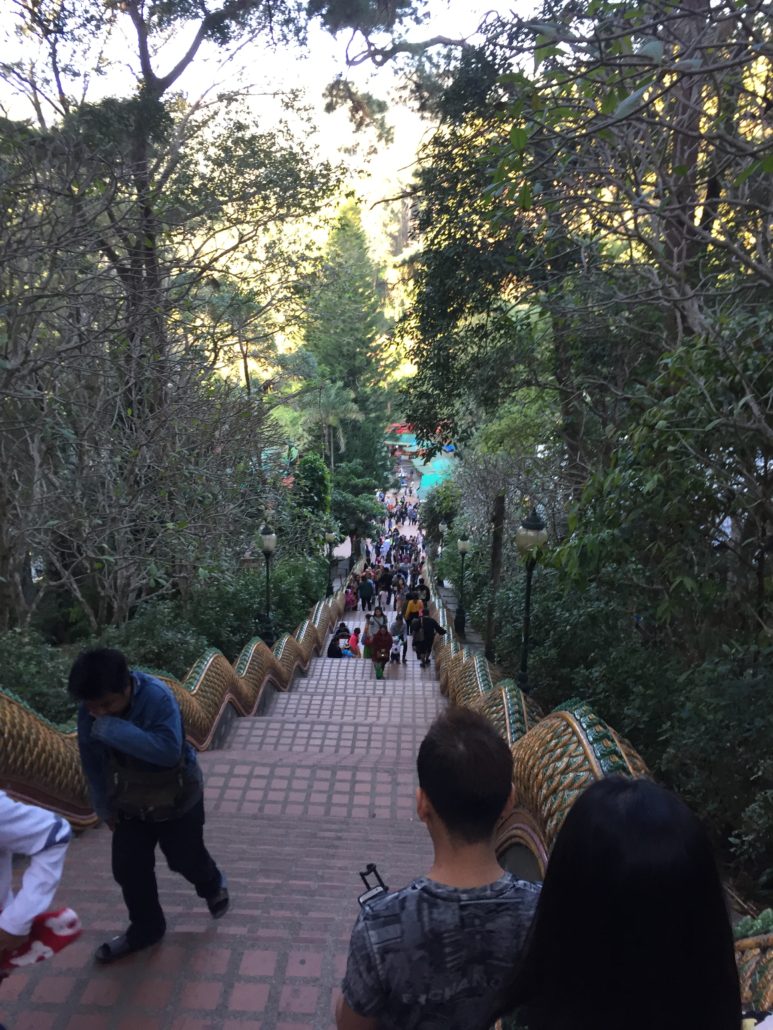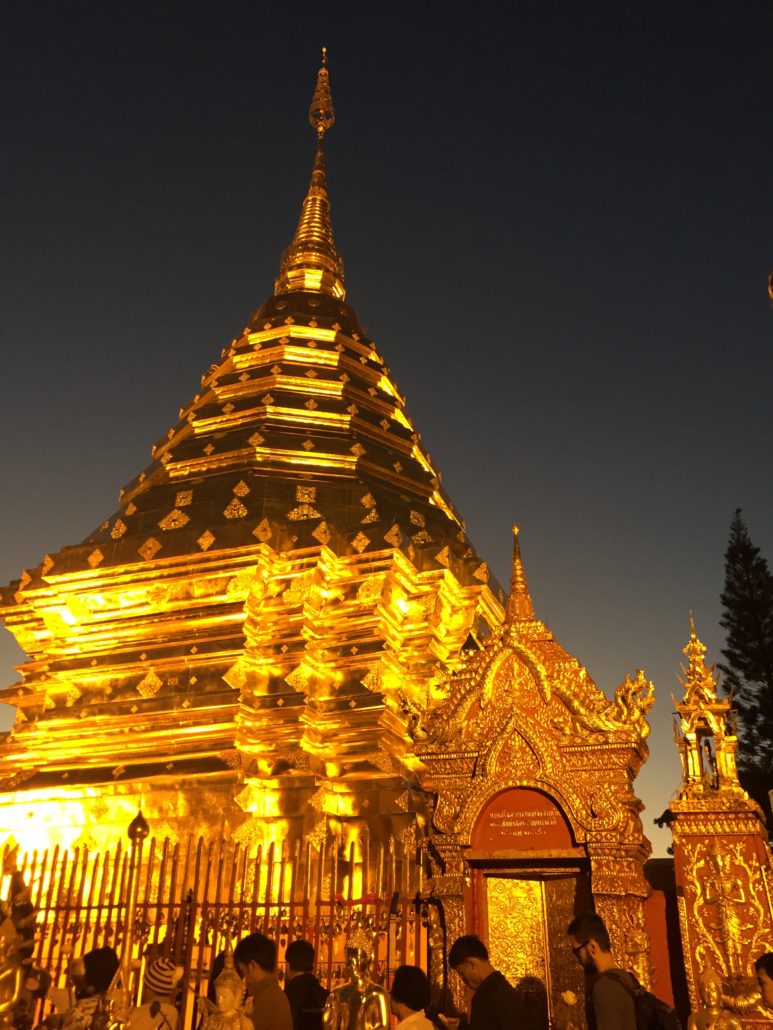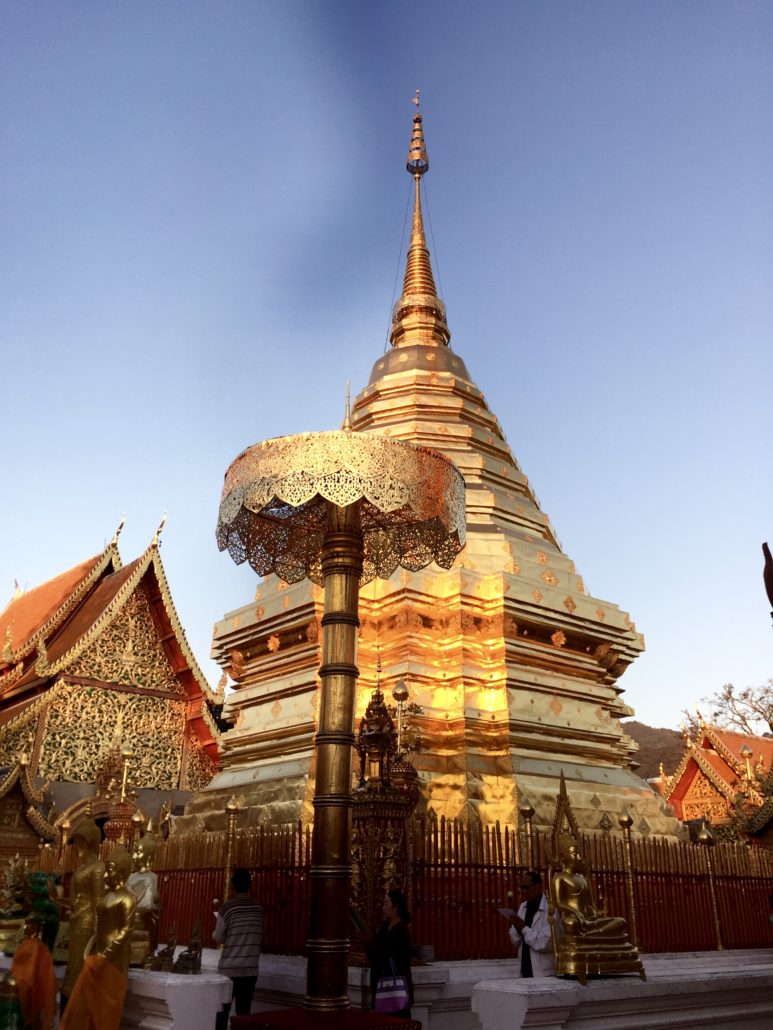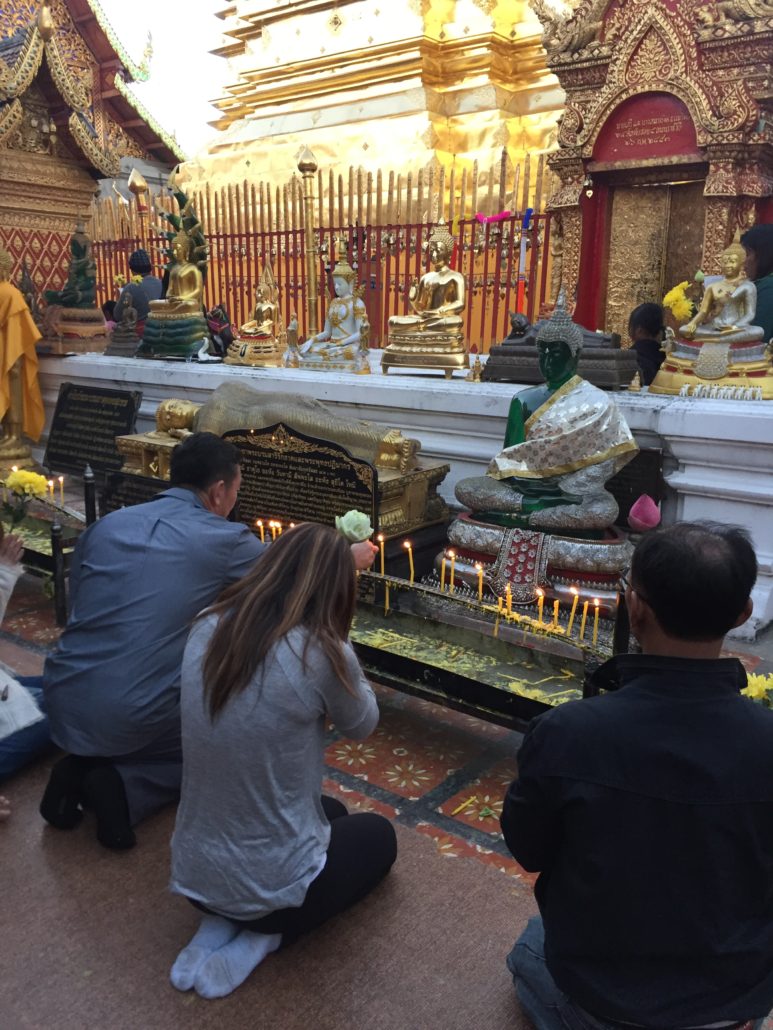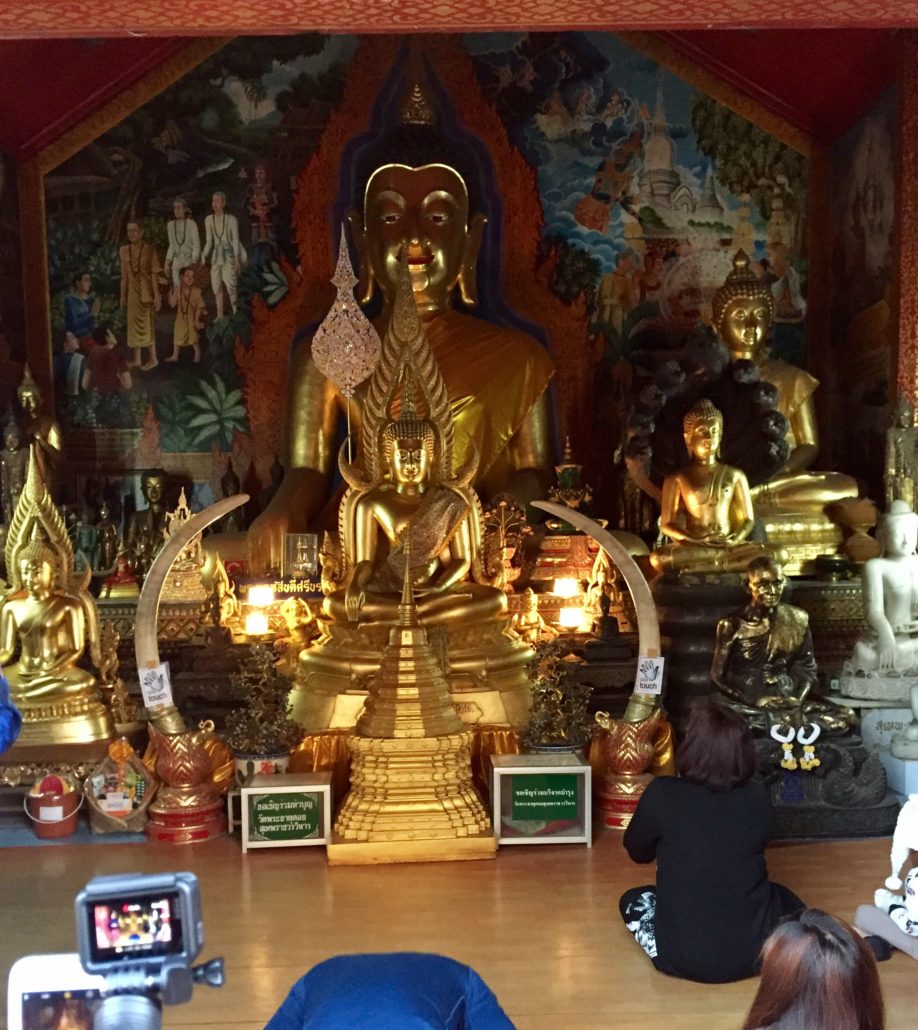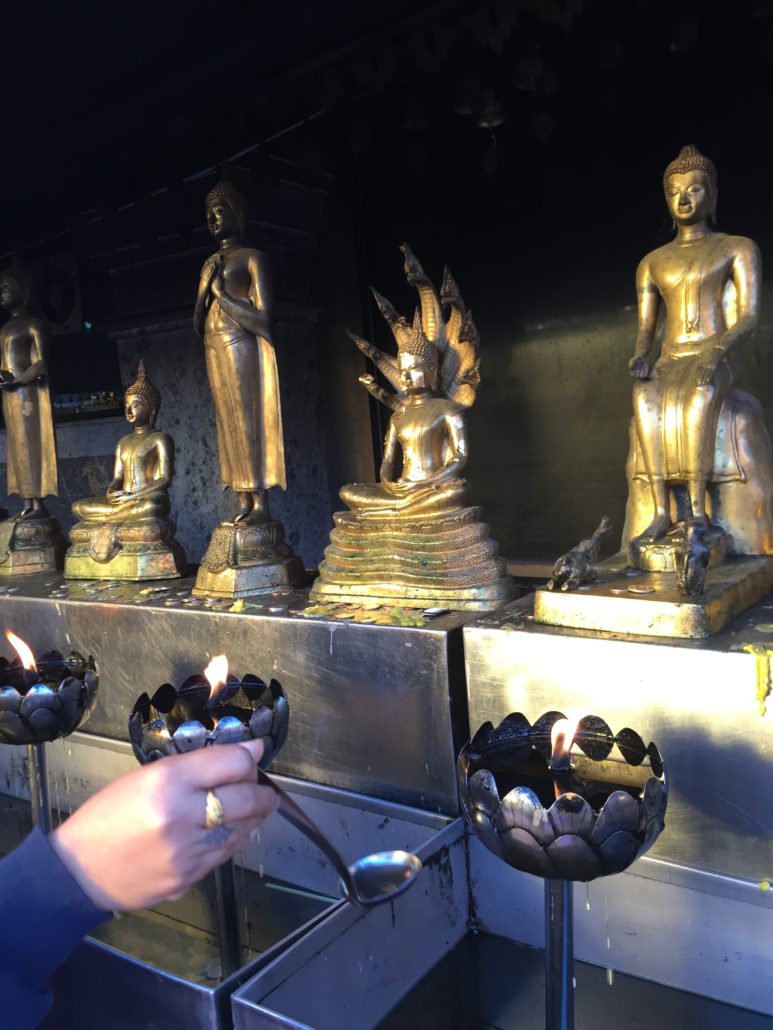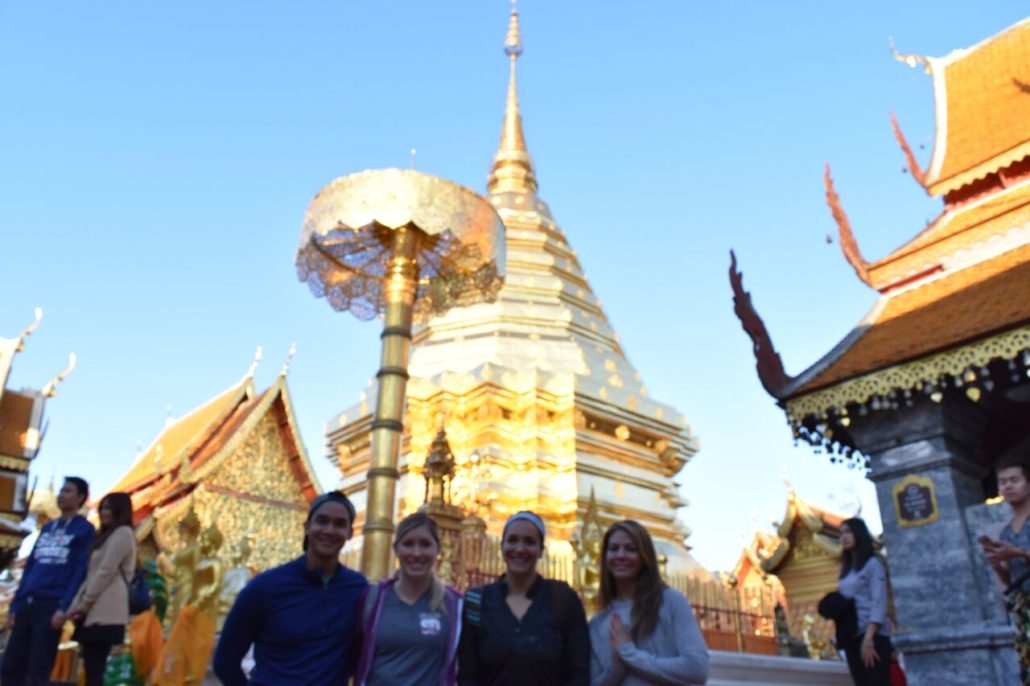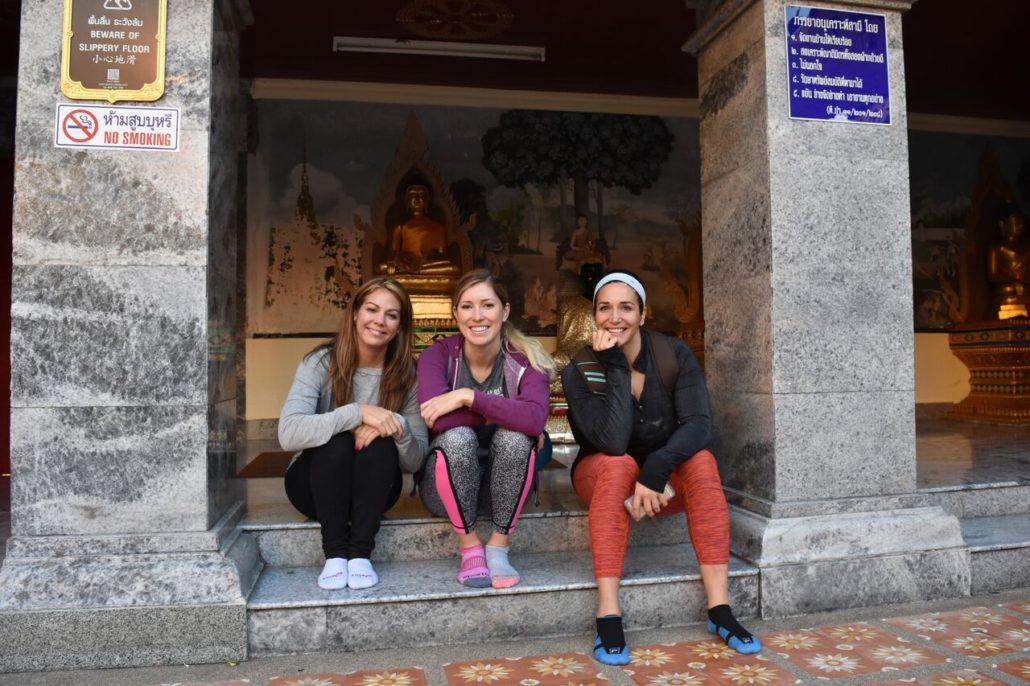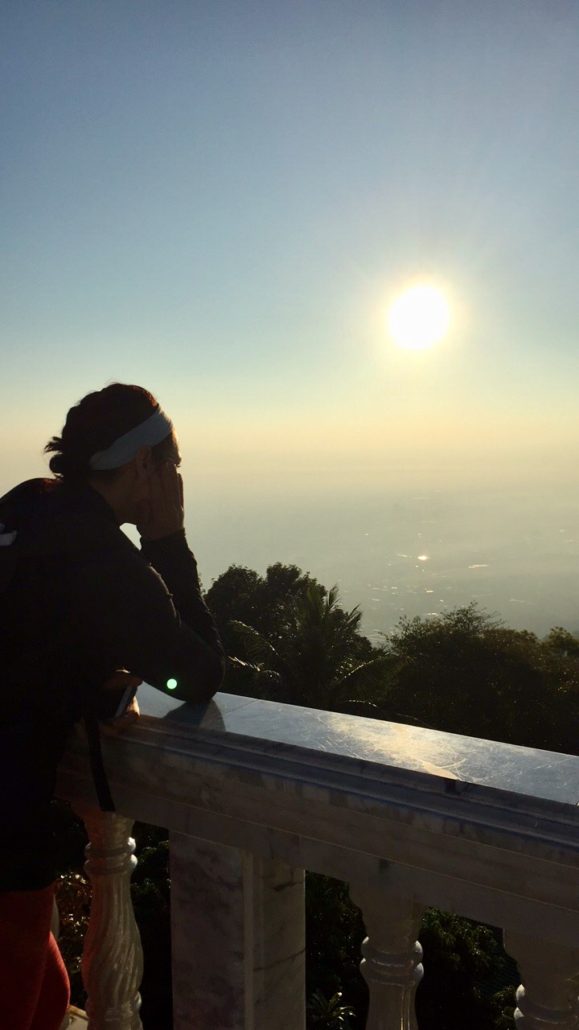 Here is your Bicoastal Beauty Tip of the week: Check out this cool traveler pouch, this is a TSA approved sized bag with approved sized little travel bottles. Also you can label what you put in the bottles, check it out, great for travel for lotions/shampoos & conditioners!

I hope this is helpful and you enjoyed it! Please leave a comment below, what would you like to see more of and what did you think of this post? Do you have any questions for me? Next week look out for:
A fun A'Broach to a LBD

Elephant Euphoria
Have a wonderful week, friends!!
xoxo, Kellie
Photography via my iphone 6 and Ben Methakul
Instagram
Instagram did not return a 200. Follow Me!