How do you feel about New Year's Eve? What's your favorite thing to do for the holiday?
NYE is my birthday, yay! So it's such a love hate thing for me. I mean I love it, EVERYONE is celebrating on my birthday in some way, but I'm at the point in my life where I want to stay home with hot chocolate, some christmas cookie candles and cozy pjs while watching the ball drop on my couch. (Who else is into that)??
However, when it comes down to it, I always end up going out and doing something to celebrate.  If you are going out this NYE I have an awesome, ball dropping (hehe) metallic for midnight, asymmetrical maxi dress option for you. This dress is sure to have people complimenting you into the new year. This dress is similar to the deep-V top I talked about in this post here and is best for women that are comfortable going braless (which is not for everyone). I do recommend some things below to pair with this dress so there are no…eh hem, malfunctions. (Think super bowl, Janet Jackson, Justin Timberlake here 😉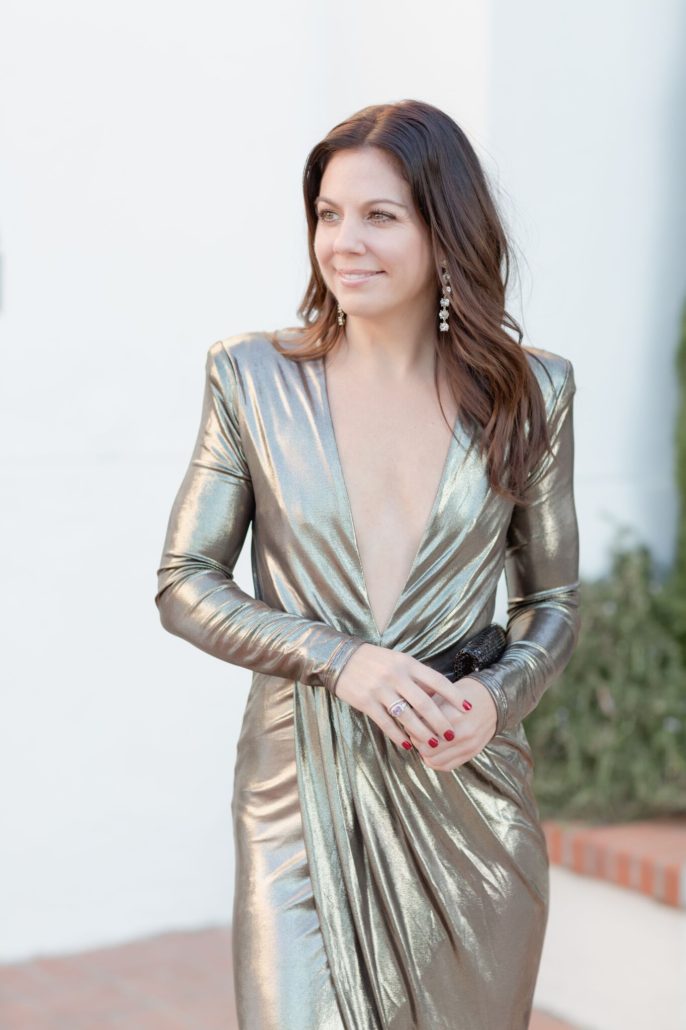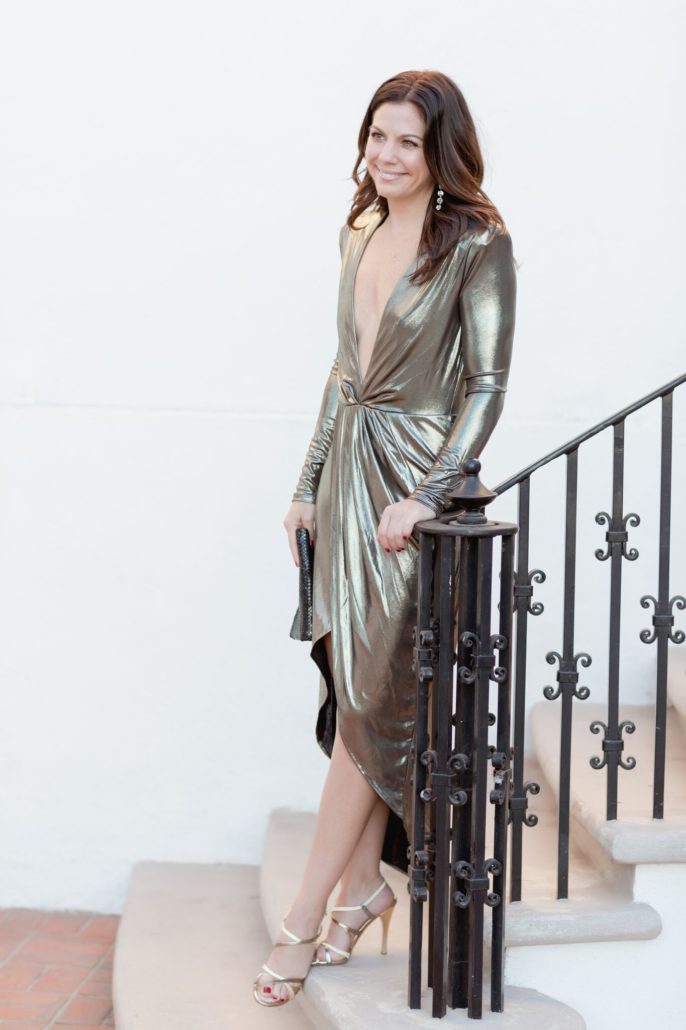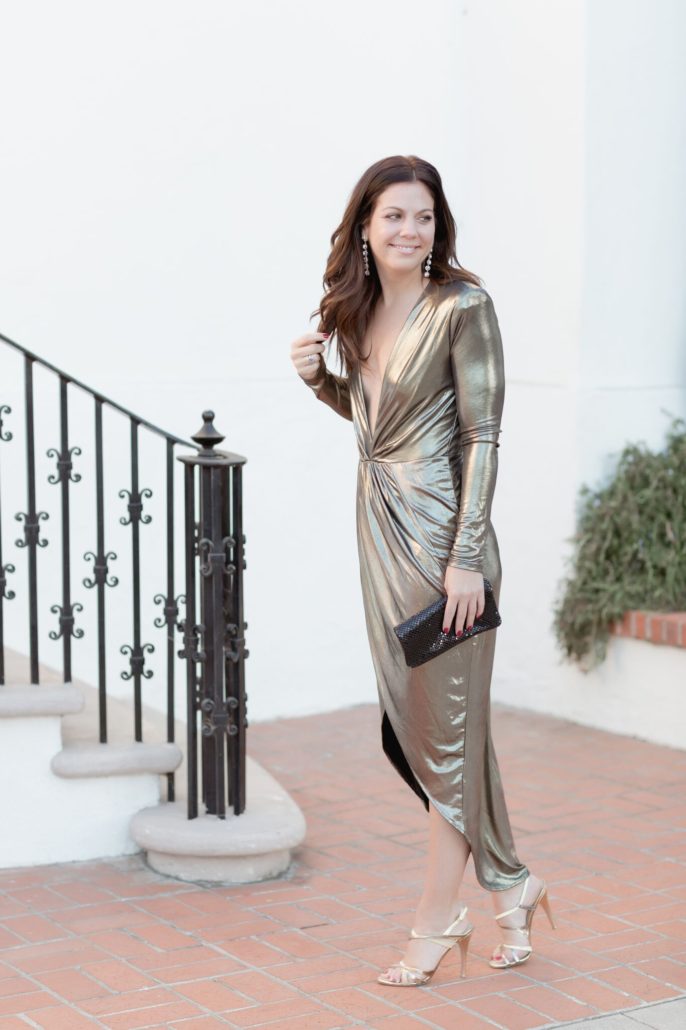 The thing that makes me laugh about this dress that is something I've been seeing lately, shoulder pads! They really give the dress some stability and shape. I also love the asymmetrical hem and the slit. I got so many compliments in this dress and the slit, coupled with deep-V feels very sexy and then the long hem in the back and long sleeves keep it classy. Then, the gold metallic is so fun for the NYE occasion (and retro, do you agree)?? I styled this dress with silver and gold Prada heels, you could also go with a solid silver or gold heel or black heels/sandals (I'll link some below).
For this look I love these dangle earrings with some sparkle, sans a necklace for this look but you could alternatively pair it with  a long necklace and a sparkle stud if you wanted a different look. Both are beautiful with this dress.
Last year was a pretty tough birthday to beat, I was in Thailand sending a lantern in the the night sky in Chiang Mai. It was freakin awesome! Check out my post here and a few others in my Thailand series, here and here. What a trip!!! I also have a few other NYE outfit ideas in this post, here.
Now that I don't have anything as extraordinary planned halfway around the world, like last year, I'm going to get together with some friends for dinner at the Pendry Hotel. (Have you been? It's one of my favorite spots in SD right now). Then we may hit a party afterwards until midnight, when I turn into a pumpkin and my birthday is over!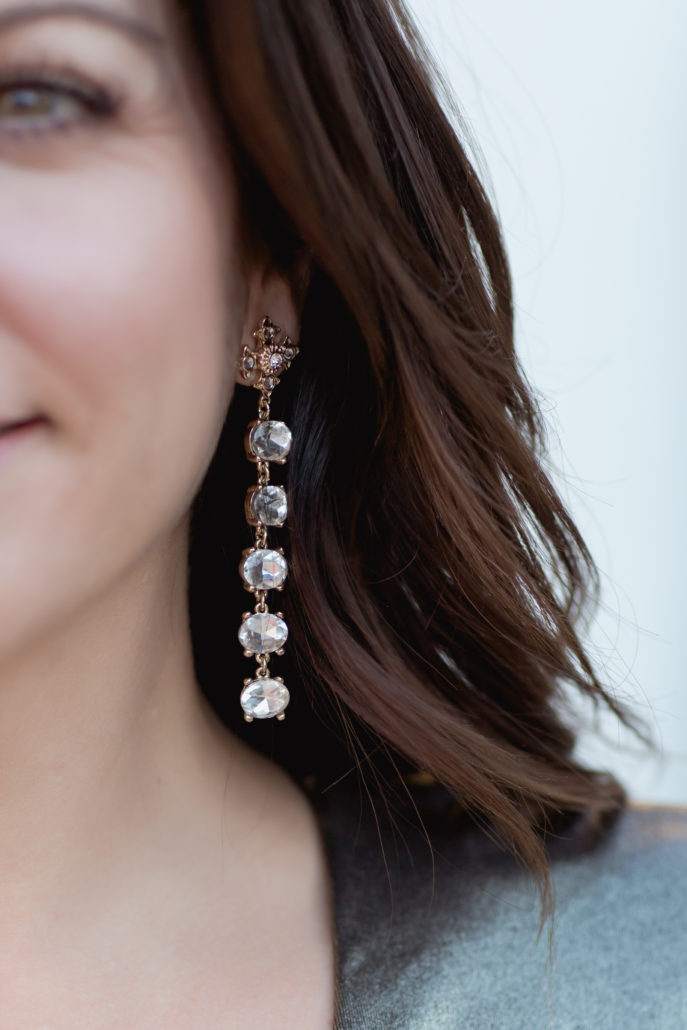 Here's your Bicoastal Beauty Tip of the week:
Here are two of my favorite products to keep on hand.
These little sponges are a LIFESAVER when it comes to removing deodorant stains for clothing. I keep one of these in my drawer at home and then bring one for travel.
Link here
This tape is so useful for keeping undergarments in order:
Link here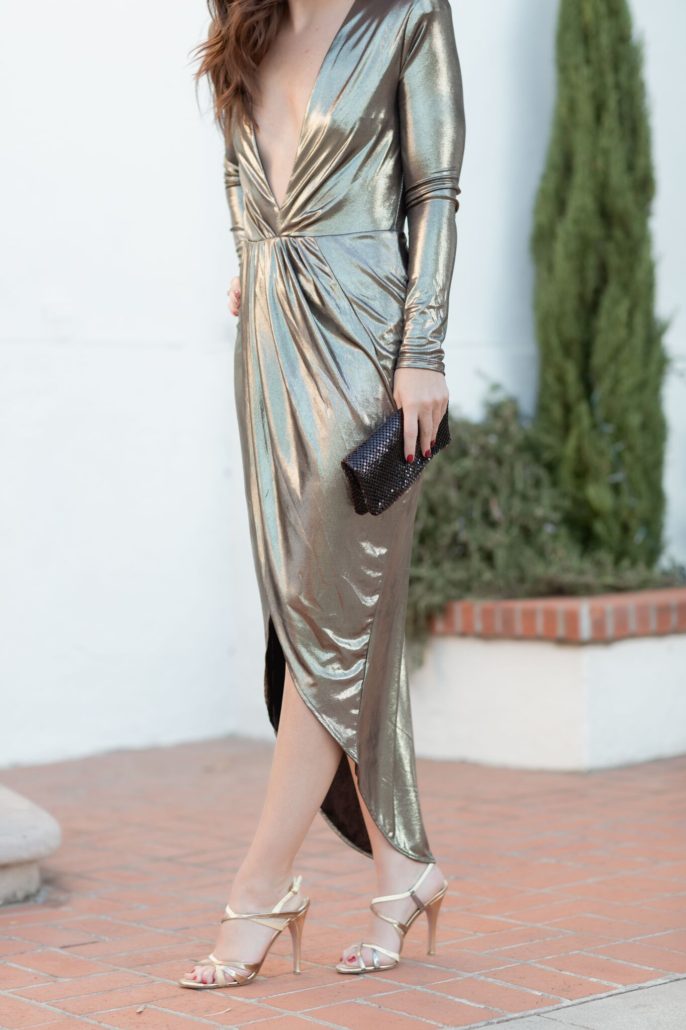 What do you guys have planned? Tell me below!
I can't wait to hear if you're going out or if I'll be jealous while you're in your cozy pjs on the couch. Happy New Year!!! (Don't forget to check back in a few days for my goal setting post, you can read last years, here)!!
Instagram
Instagram has returned invalid data. Follow Me!